(Members Access Downloads At Bottom of Page)
Healthy Cruise Travel PLR  Lead Magnet & Multi-Media Bundle
What About Reports for Lead Generation?
How about a Mini-Course, Infographic or DFY Autoresponders?  If so read on.
Accelerate Profits Using Multiple
Lead Magnets and Products Including
13 Additional Multi-Media Modules!
Full PLR License
Create an authority self-improvement blog or coaching portal with ebooks, articles and more, using instant PLR products.
Here's A Quick Look at All Modules
Lead Magnet #1

Highly targeted eBook to attract the perfect audience

eCovers

Gorgeous eCovers (editable)

Lead Magnet #2

Special report on high curiosity topic. Another list magnet, bonus incentive or gift.
Squeeze Page Template #1

HTML Funnel

Squeeze Page Template #2

HTML Funnel

Premium Articles

Niche content for blogs and syndication
Newsletters

Articles formatted into newsletters

Bestseller Book Review

It's like Cliff Notes for entrepreneurs.

Infographics

Viral Content – Professional Design – Editable PSD
Instant Social Upates

DFY Social Media Updates for Facebook / Twitter

Autoresponders

Can't think of what to email? No problem. 21 DFY messages

Mini Course

Training, YouTube Traffic or Quiz Content
MODULE #1 - LEAD MAGNET 1
8 Simple Ways to Improve Your Cruise
People take an ocean cruise hoping for a vacation to remember. Plus, they love simplicity.
This quick read provides readers with 8 simple ways to improve their vacation cruise.
Brand and sell the eBook, use it as a lead generation tool, break it up into short articles, unlimited uses. Share with confidence.  The eBook was written by a subject matter expert, published author and health coach.
What's Inside?
Editable DOC file included so you can freely edit the eBook as you wish.PDF version included.Take a Peek...
Includes Over 2,500+ Words; 20 pages
MODULE #2 - LEAD MAGNET 2
Tips & Strategies for Healthy Cruise Travel
Use as mini blog posts, Facebook updates or the entire ebook as a lead magnet. 20 quick articles on safe and smart travel.
Brand and sell the eBook, use it as a lead generation tool, break it up into short articles, unlimited uses. Share with confidence.
What's Inside?
Editable DOC file included so you can freely edit the eBook as you wish.PDF version included.Take a Peek...
Includes Over 6,800 Words
MODULES #3 & #4 - SQUEEZE PAGES FOR BOTH LEAD MAGNETS
Opt-in Funnel for Lead Magnet #1
HTML Style Optin Funnels for Both Lead Magnets
Just upload to your host or create as WordPress based Opt-in forms.
Lead Magnet #1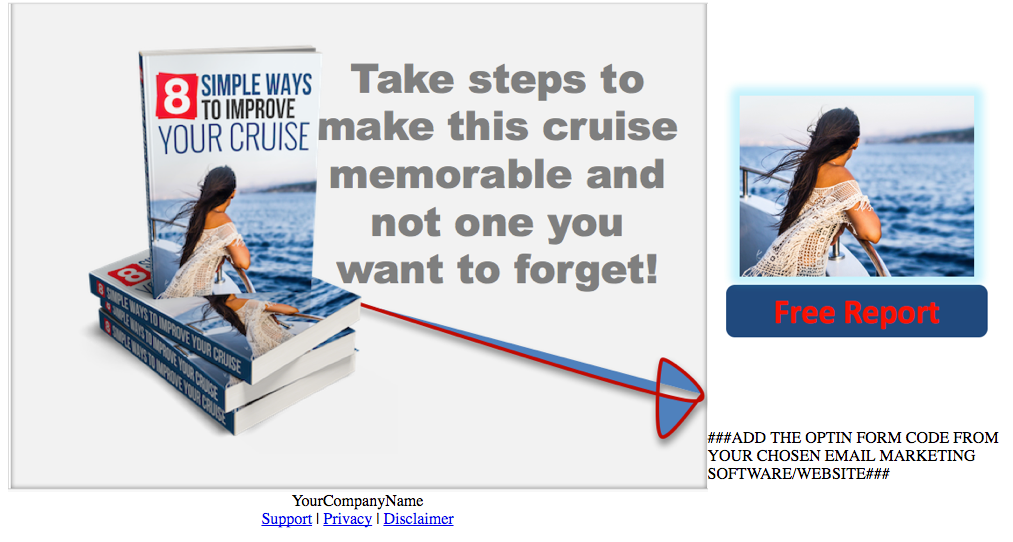 Lead Magnet #2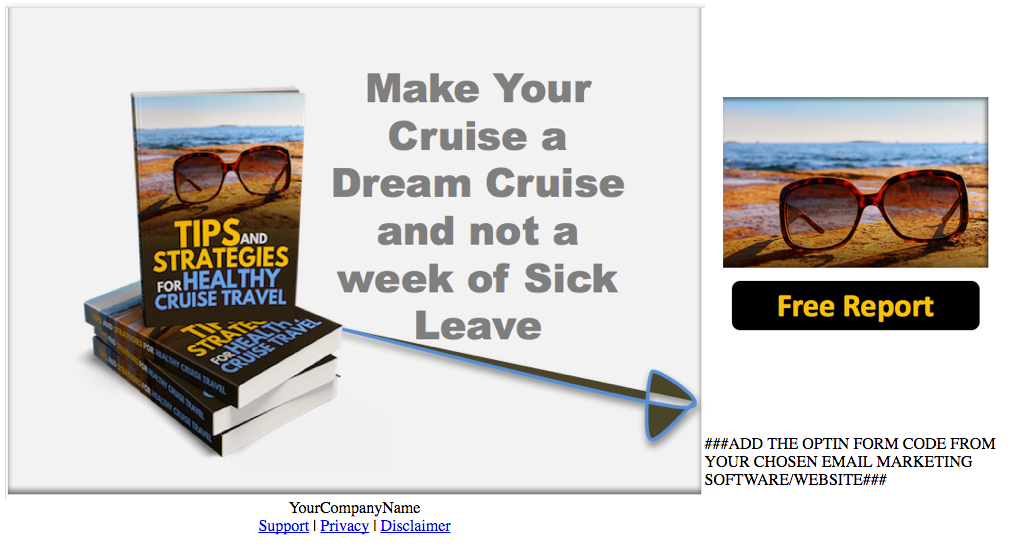 Editable Template Provided
Effective eCovers - Editable
Editable Template Provided
MODULE #6 - PREMIUM ARTICLES
12 articles to publish to the web or repurpose any way you wish.  Generous 400+ words.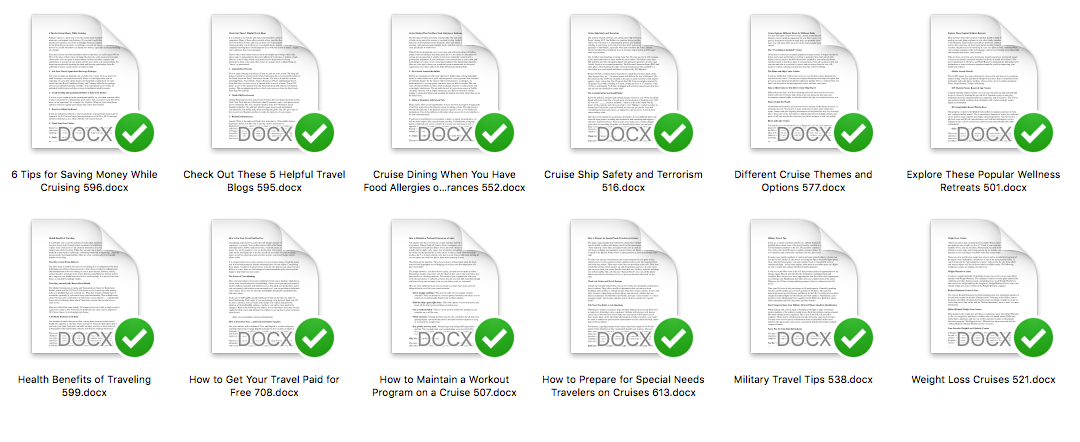 MODULE #7- BESTSELLER BOOK REVIEWS
Remember Cliff Notes from high school? No?
Cliff Notes provided a condensed version of a book which you could quickly read and then prepare a book report.
Let subscribers in on what you are reading with this Done-For-You book review.
Post to your blog and monetize with your Amazon link if you wish.
You Don't Even Have To Read The Book!
(We won't tell!)
Bestseller Review #1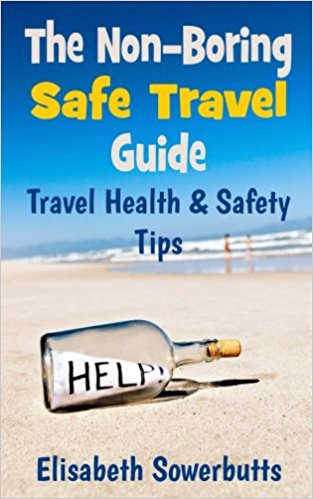 Bestseller Review #2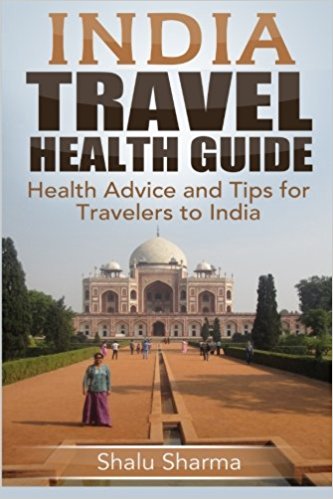 MODULE #8- MINI-REPORTS (NEWSLETTERS)
10 articles are repurposed into two 5-page (or more) reportss.
Monetize with your affiliate or product links, save as a PDF and distribute. 
You are an epic marketer!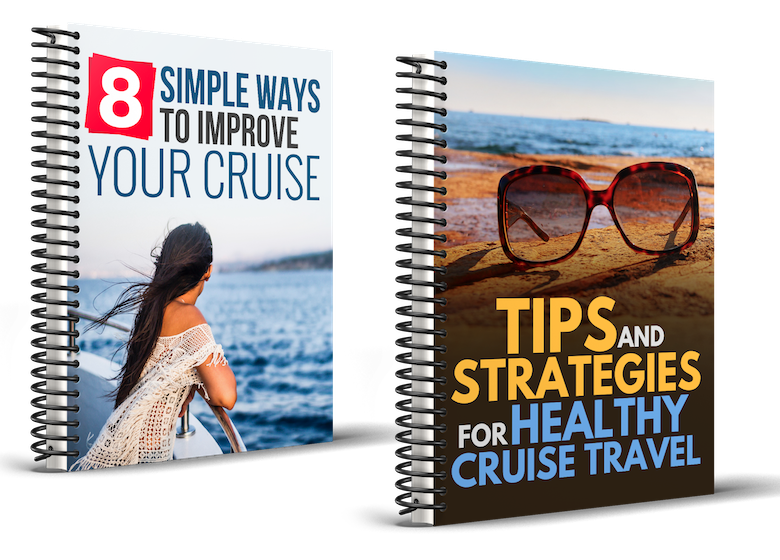 MODULE #9 - AFFILIATE ROLODEX
Not Sure What to Promote?
We've researched high commission affiliate product programs on Clickbank
MODULE #10 - SOCIAL MEDIA MESSAGES
10 Facebook & Twitter Updates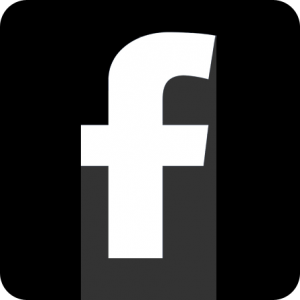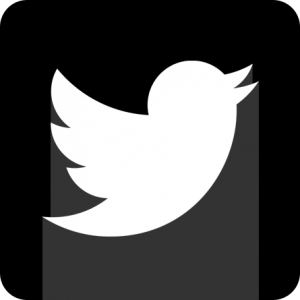 Use on social sharing sites or record as a video and upload to YouTube or Vimeo. Or create your own quiz Lead Magnet using a quiz plugin.
Copyright / Royalty Free Images included
MODULE #12 - RELEVANT AUTORESPONDERS
21 Done-for-You Autoresponders
We got you covered in the communication department.  21 Autoresponders that are way more than just "go buy this product."  These are designed to start the conversation with your audience, keep them engaged and eager to hear more from you.  The first 7 are follow-ups to the opt-in report. Just add your Call-To-Action to your own sales page or an affiliate program.  Check out the clever subject lines below.
1.) Subject: Welcome to the Healthy Travel Newsletter
2.) Subject: A floating petri dish?
2.) Subject: Have you seen your shot records lately?
4.) Subject: This opens the door to yeast infections
5.) Subject: Getting started with more fermented foods
6.) Subject: Healthy Cruise Tip – Toughen Up the Feel
7.) Subject: Norovirus and what you can do to prevent it
8.) Subject: Let's talk about the dreaded motion sickness
9.) Subject: Amazon best seller resource and my review
10.) Subject: Ocean cruises – no longer just for the wealthy
11.) Subject: 10 questions to get answers to prior to selecting a cruise
12.) Subject: Common cruise ship amenities
13.) Subject: On-board casinos and cruise ship gambling
14.) Subject: Prepare for the cruise well in advance
15.) Subject: Don't forget to budget for onboard activities
16.) Subject: Leave this with friends at home
17.) Subject: Cruise ship activities for seniors
18.) Subject: Foods supporting detoxification
19.) Subject: Cruise travel considerations for seniors
21.) Subject: A review: Your healthy and safe cruise vacation
Editable, brand it, Actual Size 600 × 1104 px; 2480 × 4584 px
Your License to Use This PLR
Full PLR Rights, Personal Use Only for Editable Content
How Much Will All This Cost?
Now It's Your Turn!
You will get instant access to: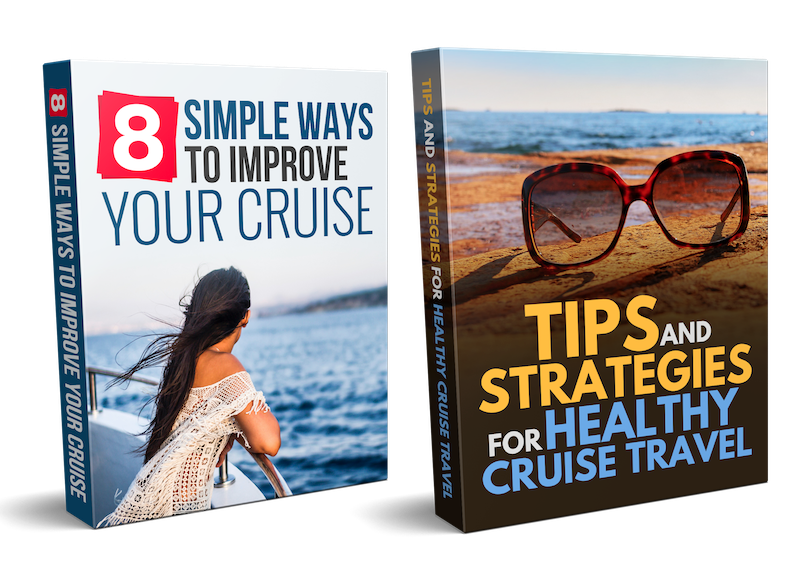 MODULE #1 LEAD MAGNET #1: 8 Simple Ways to Improve Your Cruise; 2,500, 20+ pages
MODULE #2 LEAD MAGNET #2: Tips & Strategies for Healthy Cruise Travel 6,800 + words
MODULE #3: SQUEEZE FUNNEL - Lead Magnet #1
MODULE #4: SQUEEZE FUNNEL - Lead Magnet #2
MODULE #5: GRAPHICS: 6 Styles Ecovers, 2 sets
MODULE #6: ARTICLES: 12 400W Premium Articles
MODULE #7- TWO Bestseller BOOK REVIEWS
MODULE #8: Two 5-Part NEWSLETTERS: More lead magnets, reader gifts or products to sell
MODULE #9-Affiliate ROLODEX
MODULE10-Social Media MESSAGES
MODULE #11: MINI COURSE - Use as is, or record audio and turn into a video course
MODULE #12: EMAIL MESSAGES - 21 AutorespondersMODULE
MODULE #13: INFOGRAPHIC - Another list building or training asset
——-Members Download. You Must Be Logged In to Download——-