(Members Access Downloads At Bottom of Page)
Pump it UP!  Your Core Fitness PLR Business Builder!
Your Core Fitness!
Core Fitness Tactics & Gear

Hello PLR Friends,
Kater here from PLRPump.com with another essential content marketing and income funnel for online entrepreneurs in the health & wellness market.
This is the fifth installment to the phenomenally successful series for health and fitness entrepreneurs. This product, "Your Core Fitness" allows you to target a massively popular and evergreen niche - Core Fitness Training & Equipment.
The theme for this release is "core fitness" with a slant towards runner fitness and core fitness gear.
Everyone wants to look their best sans love handles aka muffin tops. This is the time of year when runners are anxious to fire-up their training for upcoming races, events and marathons. They pull on their running shorts from last year and what do they see?
Muffin Tops. Love Handles. Pot Bellies. Step on the scales and another disappointment awaits them.
Moms, dads, kids, triathletes, desk warriors and last year's neighborhood runners, walkers and shufflers are ready to unload this excess baggage.

Perhaps you are too!
Just look at this trend graph for "core fitness" (blue) and "core exercises" (red).
Since 2005, the interest in core fitness and exercises had consistently risen.
The American College Of Sport's Medicine 2013 survey completed by thousands of ACSM health and fitness professionals worldwide indicated that Body Weight Training, Strength Training and Core Fitness Training continue to rank highly in the top 20 fitness trends for 2014 and beyond.
People who are looking for ways to speed up weight loss, trim fat and build lean muscles are ready to take action. These folks have money to spend on the things that get them ready for summer activities, weddings, family reunions, and competitive events. They want heads-to-turn when they enter a room or when the cross the finish line.

People searching for products, gear or supplements which help them build lean muscle quickly and to have more energy to be competitive are ready to spend money. Build your authority and visibility with Your Core Fitness Content Collection.
Give them what they want!
This pack is designed to attract a highly targeted group of people eager to spend money on knowledge and products to help them get stronger, faster, and leaner while maintaining a high level of energy.
Here are some keyword phrases I pulled together for these combos: core fitness and core exercises. There are dozens of profitable keywords in these groupings, but I highlighted some that really caught my eye because of high search volume and low competition.

When I see the phrases "programs" or "exercises" and "training" I seek out Clickbank products, Amazon books and fitness equipment and online merchants with affiliate programs to monetize. Other keyword phrases like medicine balls, kettlebells, and yoga DVDs are my cue that people are looking for products to help them achieve their training goals.
The content team at PLR Pump has designed a complete income earning funnel designed to attract people looking for fitness solutions specific to core fitness market.
Strengthen your reputation as an authority in the wellness industry while building a list of targeted buyers seeking solutions that show them how to ramp-up their fitness . Once they trade their email for one (or both) of your lead generation reports you have a way to stay connected with them throughout the year.
Now that you understand the demand and opportunity in this niche, let's take a peek at the framework of Your Core Fitness Income Collection.[/ez_box]
The Fitness Income Collection consists of four modules of income content and three modules of website content. Modules include lead generation report, Amazon product and book reviews, short reports, affiliate resource kit, articles, info-posters, and MP3 recordings.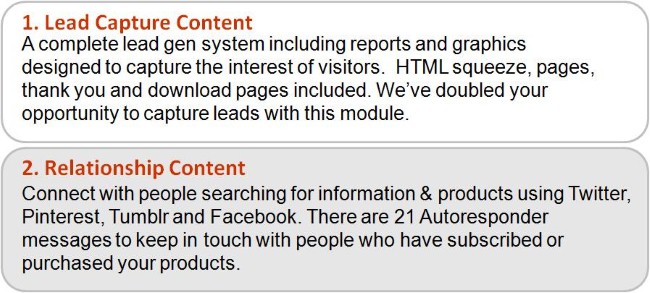 All articles AND reports are web publishable. If you prefer to use the reports as published web content instead of as a lead gen or product to sell that is allowed in the license (the license details are at the bottom of this page.)
OK, Kater, How much is this going to cost me?
Great Question! I was hoping you would ask. First, let me review the product contents, the cost to create and what you would pay for them if you purchased each module separately at retail price from PLRPump.
Here is a checklist of all the products and their value.
BUT! You aren't paying origination costs or even retail value today because I want you to to be overwhelmed by the value of what you get. I'm releasing this complete product at a very special price.
Now it's your turn to take action and click the buy button to take ownership of your own Fitness Income Model. Yes, this is a dimesale and the price is increasing with each sale.
To Your Success and Thank You!
Kater of PLRPump.com
——-Members Download. See Below——-
Sorry, this content is for members only.
Click here to get access to this product.
Already a member? Login here…