(Members Access Downloads At Bottom of Page)
Book Reviews, Articles and More Content Marketing for the Weight Loss Wellness Entrepreneur!
Weight Loss & Fitness Book Review PLR Pack – It's Like Cliff Notes for Your Fitness Blog!
Hello!
This Fitness & Weight loss PLR pack includes:
(4) weight loss and fitness book reviews (total 20 pages)
(10) supporting articles (all over 400 words)
(5) Amazon product reviews
(50) weight loss/fitness quotes in a Powerpoint and images
(5)custom graphics with full rights
The New Year has faded along with the motivation people had at the beginning of the year. All those promises they made to the mirror and spouse to lose weight and firm the posterior are beginning to feel like broken commitments - again.
At the beginning of the year they were easy marks. They were hungover from New Year's boozing and gassy from indulging in fatty holiday goodies. They were in pain, feeling lowdown and prime targets for your fitness or weight loss offers.
Now what? You can't afford to lose them, but you will if you stop communicating with them. Even if they don't buy another thing until next Christmas you HAVE to maintain a link with your list and strengthen your relationship.
You know they are foregoing the gym and PX90 drills (that probably lasted 4 days). You can just see them snoozing in the Christmas Lazy Boy. They were an easy target at the beginning of the year, but you have a business that runs 365. It's time to reignite the fitness pilot light running out of fuel in your readers.
What do you do? Use this content to re-connect with your readers.
Now is the time to kick in with new promptings to show people how they can jump back on the fitness wagon. They don't need to fail (again) because you have tips and products to help. You can start today with this PLR pack.
All you have to do is introduce some new inspiration. That's where this content pack comes into the game plan.
There is a catch to making this work...you have to use it!
These Weight/Fitness Book and Product Reviews are Targeted to the Over 40 Crowd
The articles, images and product reviews appeal to the "Beyond Spring Break Generation". These folks are concerned about their looks, slowing the aging process and don't like feeling older.
And they have expendable income.
They eagerly buy up books, videos and gadgets to help stop adding pounds, develop a trim and fit body and improve their overall well-being.
There are 4 book reviews, 5 pages each for a total of 20 pages:
Crack the Fat Loss Code, by Wendy Chant shares secrets of outsmarting your body and speeding up your metabolism.

Choose to Lose by Chris Powell provides a no nonsense approach to weight loss that doesn't require you to give up your favorite foods.

Power of 10: The Once-A-Week Slow Motion Fitness Revolution by Adam Zickerman and Bill Schley teaches how to get a great workout without spending hours in a gym. This is perfect for those of us who spend too much time at work and the rest of the hours taxiing kids to and from activities, paying bills and figuring out how to get more out of each hour.

The Slow Burn Fitness Revolution by Fredrick Hahn, Michael R. Eades and Mary Dan Eades will change your body in 30 minutes a week - without going to the nip n' tuck doctor.
10 Supporting Articles all over 400 words
5 Carb Cycling Metabolism Articles

5 Slow Motion Fitness Articles
5 product reviews related to gizmos that fit within the fitness protocols described in the book reviews.
Aylio 3 Loop Bands for Exercise

Cap Barbell 40-Pound Dumbbell Set

SKLZ Super Sandbag - Heavy Duty Training Weight Bag

SKLZ Power Strapz - Portable Weight Suspension Training System

Kinesio Tex Tape - This is a miracle tape I'm using when joints and muscles get a littly cranky. You see it on athletes all the time. Check out the tennis, beach volley ball and weight lifters and look for the black or tan strips of tape on their legs, shoulders and abs. Works Wonders!
50 Fitness & Weight Loss or Motivation Quotes
Secret Tip! Setup a page for "Favorite Fitness Quotes" or "Favorite Diet Quotes" on your blog. Use the 50 Favorite Quotes images or presentation to capture people searching for "favorite diet/fitness/weight loss quotes". Use the images to post to Pinterest and Tumblr. Attract buyers looking for help to improve their fitness and well-being. Promote the heck out of these pages.
The 5 graphics match up to the product reviews
The research is done for you too!

Check out the search numbers for these product specific keyword phrases:
Check out the search numbers for these weight loss and fitness keywords:
That's enough proof why you need this product. Let's get to the numbers...
Over 35 pages of fresh weight loss and fitness PLR with over 50 graphics and product reviews.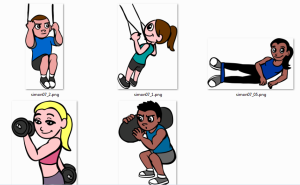 Thank YOU!
Limited PLR Weight Loss & Fitness
"The Beyond Spring Break Generation" w/Graphics!
——-Members Download. See Below——-
Sorry, this content is for members only.
Click here to get access to this product.
Already a member? Login here…