In this training you'll learn how to take a Plain Jane PLR report or even a series of articles and turn them into a really nice looking newsletter. then save the newsletter as a PDF and then release it to your subscribers.  If you are connecting with people in the offline world, have the newsletter printed to nice stock paper.  That's a high-end business card to pass around!
What I have here is a new short report that I'm dropping into the PLR Pump Content Club as an unannounced bonus. Members also get the formatted newsletters and graphics.
What I'll end up with is a professional looking document. Here is a preview screen shot.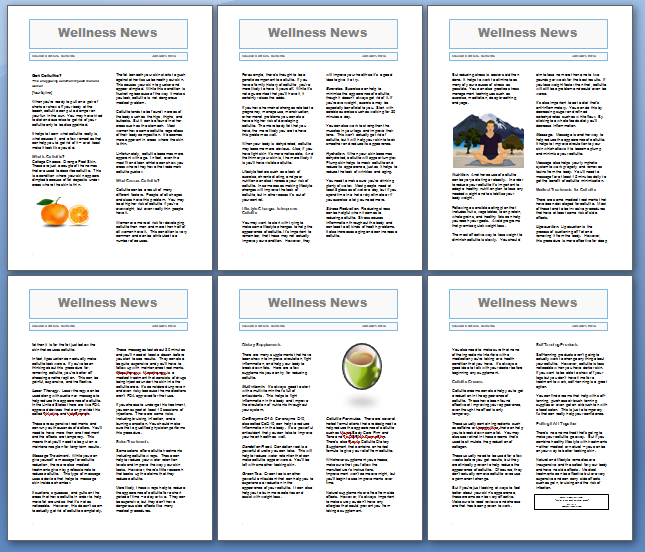 How to use this PLR newsletter …
This is yet another way to connect with people who are either on your list by sending it via email distribution or new people that you meet at networking events. Now, it's important to share something they value.  In this example,  the topic is cellulite.  People don't have to be in the weight loss niche to benefit from this.  Here are some ideas on people who will connect with the topic:
Personal trainers
Nutritionists
Weight loss specialists
Anti-aging and beauty consultants
Tanning salons
Herbalists and natural remedy professionals
It's important you brand the newsletter with your company name, logo, your URL or even your name for personal branding.  Tell people how to find you.  Do this with the Call-to-Action at the end of the report or anywhere in the report. More than one time isn't a bad idea.
In this call to action, I'm sending them to a website with an invitation to review the latest publication – the Senior Fitness Report.
So let's get on with the tutorial.
Start by creating a backup of the original document.
The next thing I'll do is I'll look for areas that maybe some some things I want to change wording make it sound more like my voice or I might add a personal story.  That's really nice way to connect with people.  Look for areas where you can add graphics.
Don't forget, to insert a link to affiliate program if it makes sense or to your own products of course.  Don't forget the Call-to Action.
Click the links below to watch, learn and do!
If the volume is to loud you can lower it on the Jing Control Bar.

Video – Prepare the PLR Report for Newsletter Formatting
http://screencast.com/t/j56lFz61nJKF
Video – Add the Banner to the Newsletter
http://screencast.com/t/towBaugklNu
Video – Add Text Formatting & Graphics to the Newsletter
http://screencast.com/t/EbSkUjIgj
Video – Don't Forget to Add Call to Action
http://screencast.com/t/Mku2gt0eVif
Super Tip – Add banner every page & byline
http://screencast.com/t/a2xXk9ua
Here's how to get exclusive content like this newsletter and more.