One of the most memorable and actionable marketing tips I learned from Paul Evans. Paul is a marketing coach, fitness coach and speaker. He also serves as the executive director of www.100xMissions.org, a faith based non-profit organization that assists in the building and support of orphanages around the world.
Paul's tip for getting your list started fast was to answer a burning question relevant to your market.
The example he used was for a weight loss list. What was the burning question?
What's the one thing that makes it nearly impossible for women over 50 to lose weight?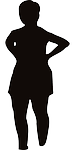 Notice how he really honed in on the target audience.
Women
Over 50
Having a hard time losing weight
What's cool about this method is you don't have to give away a huge report – or even any report to provide the response.
He provided the answer on a single page post.  At the end of the post he offered a more expansive answer in the form of a short report for $9.
For the response, the answer to the burning question, Paul used a portion of a PLR weight loss report and added a story from his own coaching experience. Then he used the same PLR report for the product he offered at the end of the post.
The story is key.  You have to put something in these responses to make a connection with the reader.  The best way to do that is with a story.
Viola! He had a list and a mini-product funnel from a single PLR product.
Sure, he did have to invest some time into the effort.  He reviewed the original PLR report to learn where he could add his own information to it. Then he pulled a chunk out of the report to use for the lead generation offer.  He didn't have to spend hours writing all the content for the funnel.
That's the power PLR puts into your hands.  Instant products, funnels, gifts, bonuses, and material you can use in dozens of ways.  You just have to execute.
Six years ago Jason Fladlien was a house painter working for $12 an hour.  Today, he produces software used by both online and offline customers.  He is the CEO of a multi-million dollar software solutions company, Rapid Crush, Inc. He credits the following for his success:
Execution is key – Get into "ready state" and execute!
Use your PLR and do it!
***
Get a fantastic Weight Loss and Exercise Course With Videos, Workout Plans And Emails (that you can brand as your own and sell for profit)
.