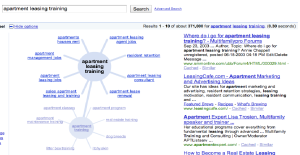 If you hate anything to do with optimizing your content you won't appreciate this post because I'm providing an update on a keyword research tool called Google's Wonder Wheel.  The Wonder Wheel was an adjunct to using Google's Adwords Keyword Research tool.  You would enter a keyword phrase and the Wonder Wheel would return alternative keywords in a hub-and-spoke configuration — like a wheel.
This was a fun new way to research niches and keywords.  The results presented in a different visual format would spark new ideas.  Then, probably because we loved it so, Google took away our Wheely.
In 2011, about mid-year, bloggers, SEO researchers and product developers couldn't find the Wonder Wheel.  You could hear the shock and awe surging through the SEO forums. "Ahh, where did it go?" " You can't take it away (really?) without an alternative."  Of course, anyone who developed a tool with hooks into the Wonder Wheel were scrambling to fix their software.
Time has passed and we sort of forgot about the Wonder Wheel.  I was doing research for an article and came across this post "It's Official: Google Wonder Wheel is Back, and It's Called the Contextual Targeting Tool [Tutorial]" by Glenn Gabe.   The Google Wonder Wheel replace is the Contextual Targeting Tool.  This tool is running the same engine that drove the Wonder Wheel.  That's great news for all the Wheely lovers, but the downside is the new tool is text based and doesn't return results in the hub-and-spoke representation.
You can find the Contextual Targeting Tool within Google's Adwords Research tool.  It is under the Tools and Analysis tab which is an advance feature so you'll have to login to the Google Adwords tool, i.e. not use the free version that doesn't require login.
I recommend you read Glenn's tutorial and reacquaint yourself with the all new Wonder Wheel – The Contextual Targeting Tool.