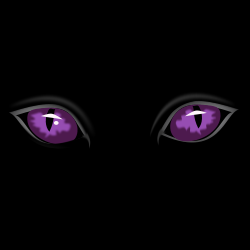 After reading this post you will learn how to set up a spy network using a free tool from Google, why you should spy on yourself, and learn yet another way to use PLR like the gurus do.
You have to keep on top of what others say about you, your brand, products or company. I know, this sounds like the ultimate in self-love or paranoia. I prefer to think of it as self preservation. With social media and the openness of the Internet, people can really muck up your reputation. It's bad enough you can do it to yourself, you don't need others helping.
It doesn't matter if you make money online or offline.  You have to keep your ears to the ground listening for news about your business, brand or name.  In this day, even employees should keep their eyes and ears open for references to their name.  Social media tools like Facebook, blogging, Twitter and similar publishing mechanisms make it possible for anyone and everyone to talk about you behind your back or to your face.  That's why you need to set up a spy network to spy on yourself.
Personally, I think this is creepy. I am the first one to say that I am a social-phobe with it comes to using Facebook, Twitter, etc.  Coming from a background in network and computer support, I find it more than a bit unnerving that everyone now has the power of the 'Net' at their fingertips.  I think a lot of people in my generation feel that way.  It doesn't make social media wrong, it's just something to be used with due diligence.
Today, I was reviewing my tasks in a branding challenge I participate in (sort of). I actually am behind in my homework. I purchased the PLR to the challenge and am incorporating that into this post. It occurred to me that this was a good opportunity to share another guru method for using PLR. Are you ready for this one?
Use your PLR.
I don't just buy PLR to create products.  I buy PLR to learn about things I don't understand or want to learn more about. This is the curious cat part of me.  So, I purchased some branding PLR and now I'm using it.  Better yet, you get to benefit from the PLR topic which is branding and your spy network.
Getting back to spying on myself.  There are many reasons you want to spy on yourself.
Why You Need a Spy Network
1.    Find out who is talking/posting about you.
If it's positive information then take that opportunity to Tweet or Plus 1 the post or Like it – whatever your favorite media tool.  Heck, you can even make a blog post about that post and link back to it.
2.    Learn who is bad mouthing you and deal with it.
Sometimes the information is negative. This can be a good thing.  If it's a negative comment, but true, obviously you need to do some damage control.  Big business uses this kind of information to find out about product weaknesses or problems.  If the comments are downright false, you need to deal with that,too. The more famous (or infamous) you become the more at risk you are for personal graffiti. People will even try to impersonate you.  Use your spy network to uncover impersonators.
Contact the author and ask them why they made negative comment.  Set them straight.  Ask them for rebuttal time.  Post your own rebuttal in your blog.  Don't let it pass without some kind of calibration on the impact to your reputation. Address the situation before rumors spread like a wildfire.
3.    Know who your friends are and who isn't genuine.
I haven't experienced this yet, but another marketer shared an experience, "I was being friendly and networking with one individual on Google Plus, sharing his posts to others, 'Plussing' them, etc., when I discovered he was being phony the whole time. This moron used his photo in the forum when slamming me, so I got notification of it, and then blocked him. He lost my friendship, which could have benefited him if he'd been a true friend to me, but once I discovered he was shady, he no longer got any of the online sharing benefits I had to offer."
Spying on yourself is powerful stuff.
4.    See if your products are being stolen.
This situation just reared it's head today and I'm going to share it in another post.  For now, just realize that in a digital world, your stuff is easily ripped off. No one is controlling the theft of information products. Just set up your spy network to catch the thieves in the act.
5.    Be available to answer questions instead of having others answer for you.
Would you like to have a reputation as the subject matter expert in an area?  That's how you build authority and grow your reputation.  Part of your spy network should be devoted to collecting information from others who are also in your area of expertise. Take opportunity to answer questions or to give a new perspective.
****
Sounds great, but how do you do set up your spy network?
There is a way to have a system in place where all of that buzz is emailed straight to your inbox. To do this, you need an Gmail account. Some of you may already have one and some may prefer Yahoo or something else, but for you to get they spy network in place you need a Gmail account.
Next, you're going to go here: http://www.google.com/alerts and set up a Google Alert for many different things – depending on how much you want to know. First, let me show you HOW to set up a Google Alert and then I'll work with you on what topics you might want to have sent to you.
I Set Up My Spy Network for My Name
The picture below shows me setting up a spy network alert for "Kate Rieger" (put your name in quotes for exact match).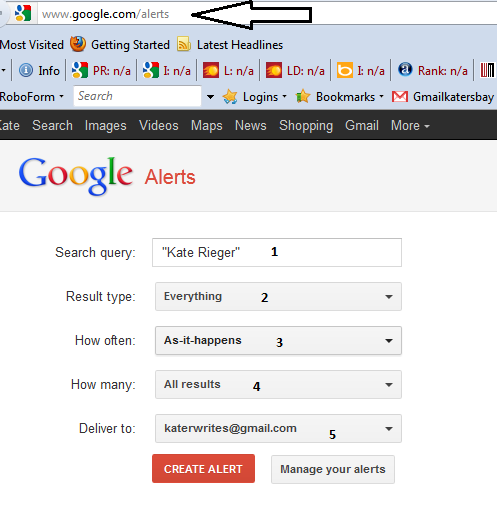 I'm going to login to google alerts and then go through the step-by-step process to set up a spy network on me.
First let's set one up for my name. So I'll type in "Kate Rieger" in the search query.
From the pull down menu on the left, you'll choose the type of information that you want. I set mine to Everything. But you might choose only News, Blogs, Videos or Discussions.
Next choose how often you want alerts. You can do once a day, as it happens, or once a week. I set mine to "As It Happens". I want to have immediate feedback from my spy network.
Now you'll set the "Volume" of your alert. I like choosing All Results – but it defaults to Only the Best Results. I don't want Google determining what's important and what's not – I want it all.
And finally, you'll choose whether you want it to go to your gmail address or to an RSS feed. I set mine straight to my email inbox so I can keep tabs on it quickly.
Also, don't choose really general keywords or phrases.  I would never do an alert for "marketing" for example because that's too broad and will overwhelm me with alerts! Even "Internet Marketing" is too broad for me.  However, "PLR" isn't a broad a topic, so I'll enter "PLR", "private label rights" and my website "PLRPump.com" or "PLR Pump".  Plus, since I'm touting PLR packs promoted by cats I'll stick in "PLR cats" for fun.
If you want to have Google pursue a phrase or word exactly as you spell it, then put a plus sign in front of it. For example, if I wanted the word "foard" not "ford" I would do this "+foard" otherwise Google's smartypants algorithm will send me "ford" stuff.
There is some other tweaking you can do with the parameters.  For example, if you want to pull posts from the Warrior Forum with the word "PLR" in them you can set that up. That alert would look like PLR site:warriorforum.com.
What if you want to get alerts on a name that is in use by a lot of people, like Jennifer Lopez, you can add a minus sign and a keyword to filter it out.
So if you had the name Jennifer Lopez and you were the singer, not the lady down the street, then you make a Google Alert like this: "Jennifer Lopez" singer. OR, make it like this: "Jennifer Lopez" idol.  If you wanted alerts for all the instances of "Jennifer Lopez" who isn't the singer or American Idol star, then just place a minus sign in front of the word:
"Jennifer Lopez" -singer. OR, make it like this: "Jennifer Lopez" -idol
Can you think of another way to use this same process to benefit your business or marketing efforts? Let me know if you use other tools to set up a spy network by leaving a post below.
If you found this post by accident and would like more handy tips like this one where I used PLR to show my readers why and how to set up a spy network, then just enter your email address form at the top of this page and confirm in the follow-up email.