Complete Private Label Marketing Kit for the Lucrative Self Improvement Marketplace
"Embracing Rejection" offers bloggers, coaches, trainers, and affiliates in the Self Improvement market a generous bundle of of PLR ebooks, articles, video and social media to attract new business. If you need more time to coach or to build new relationship, then put this content to work today. You can implement as is or tweak it for your specific purpose. Take a look at everything in this Self Help bundle.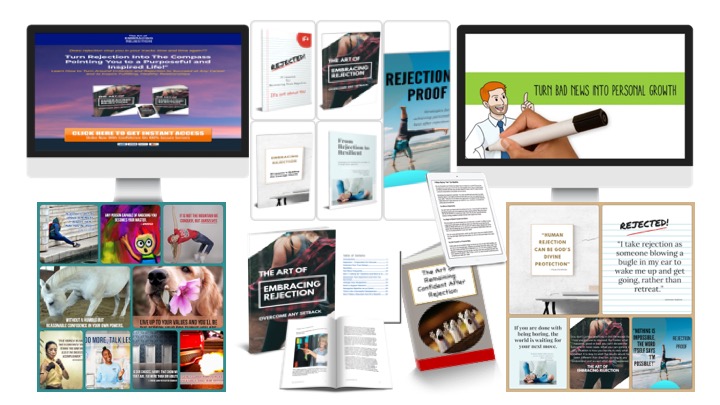 Self Improvement PLR Bundle at a Glance
eBook – "The Art of Embracing Rejection" PLR,
Articles -10 articles
eCover Cafe – 5 eCovers with new titles
8 eCover Styles
Lead Magnet Report
Social Posters Galore
Full Responsive Sales Funnel with Download Page
Sales Copy Done-For-You
Image Library
Instagram &Facebook Ebook Banners
New White Board Video
We did the hard part for you!
Self Help PLR eBooks
Ebook Guide "The Art of Embracing Rejection"
Take a peek at the topics and the layout.
Feel free to add your own experiences – that's what make it unique!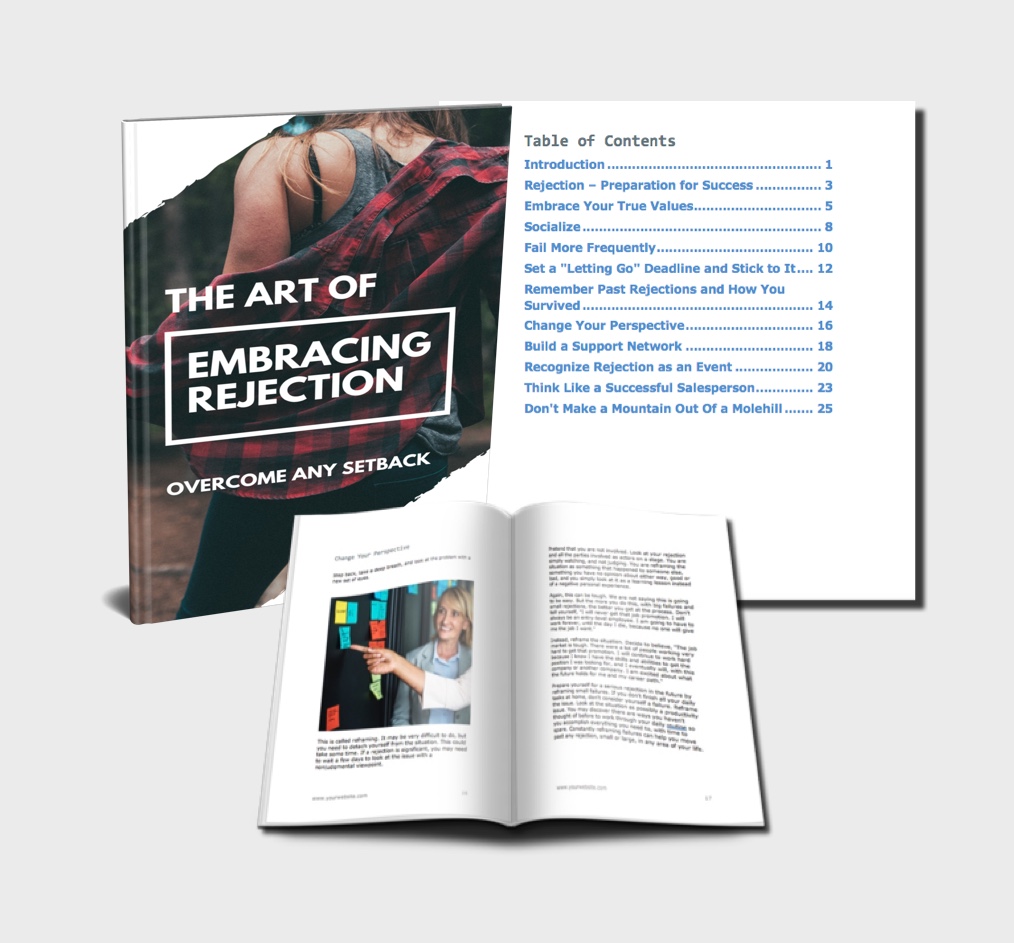 Illustrated Royalty Copyright Free Graphics. You'll find these images on one of our two favorite free image portals: Pixabay and Unsplash. Don't worry, you won't have to search for them. The original images are included in your image library.
Easy to Read. Attractive formatting along with resource link makes for informative and easy reading.
Blogging Content
Articles to Get The Click! All original content written by
our trusted team of writers.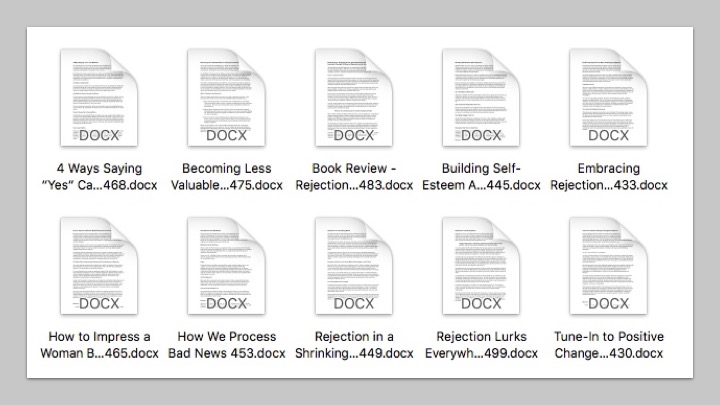 10 PLR Self Improvement Articles
4 Ways Saying "Yes" Can Backfire 468 words
Becoming Less Valuable When Lacking Personal Values 475 words
Book Review – Rejection Proof – How I Beat Fear and Became Invincible 483 words
Building Self-Esteem After Rejection 445 words
Embracing Rejection for More Challenging Opportunities 433 words
How to Impress a Woman By Showing Her How You Handle Rejection 465 words
How We Process Bad News 453 words
Rejection in a Shrinking World 449 words
Rejection Lurks Everywhere 499 words
Tune-In to Positive Change Through Acceptance 430 words
ECOVER STYLES & DESIGNS
Five eCover Designs with New Titles
All new design with a new title. Now you don't have to create a new eCover. We've also included the background template if you have a new title you prefer to use.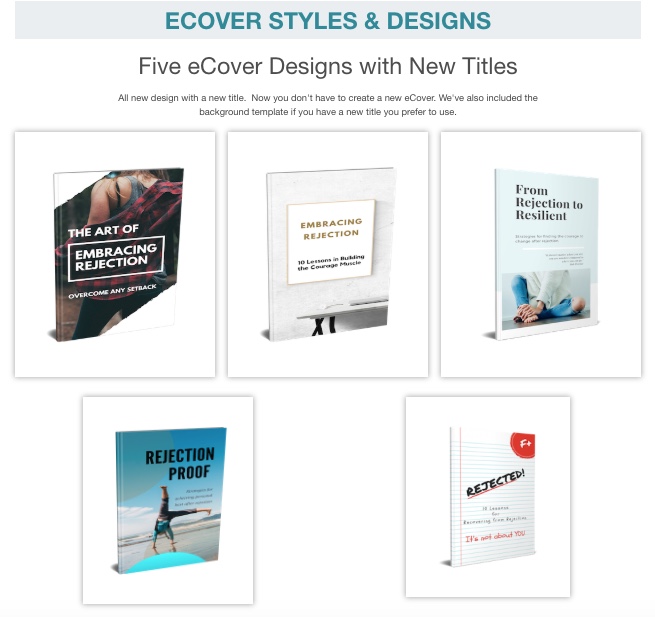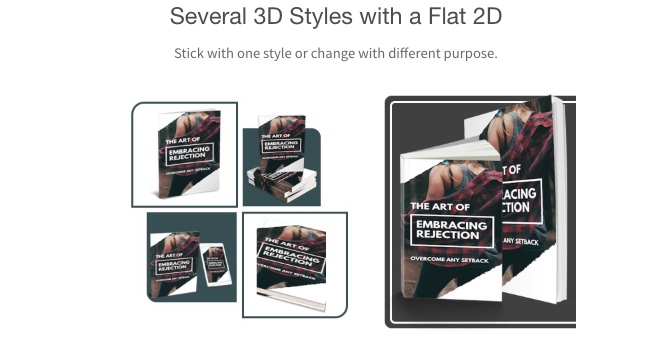 Ethical Bribe aka Lead Magnet eBook PLR
Exchange This Resource for a Visitor's Email Address. Quick Reference to use as gift or training resource.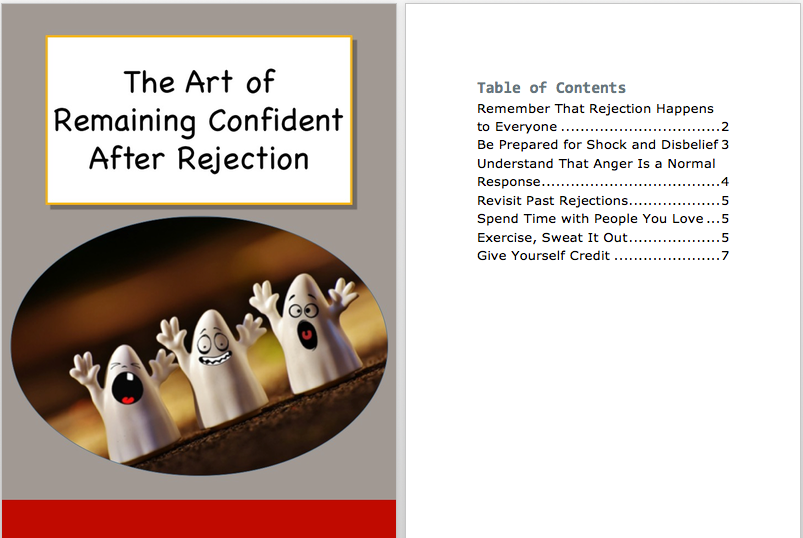 PLR Social Posters
9 Posters are designed to spark interest and curiosity
to pull in traffic to your website. 1000px X 1000 px
Use them where your customers hang out: Facebook, Pinterest, Instagram, Twitter and your blog.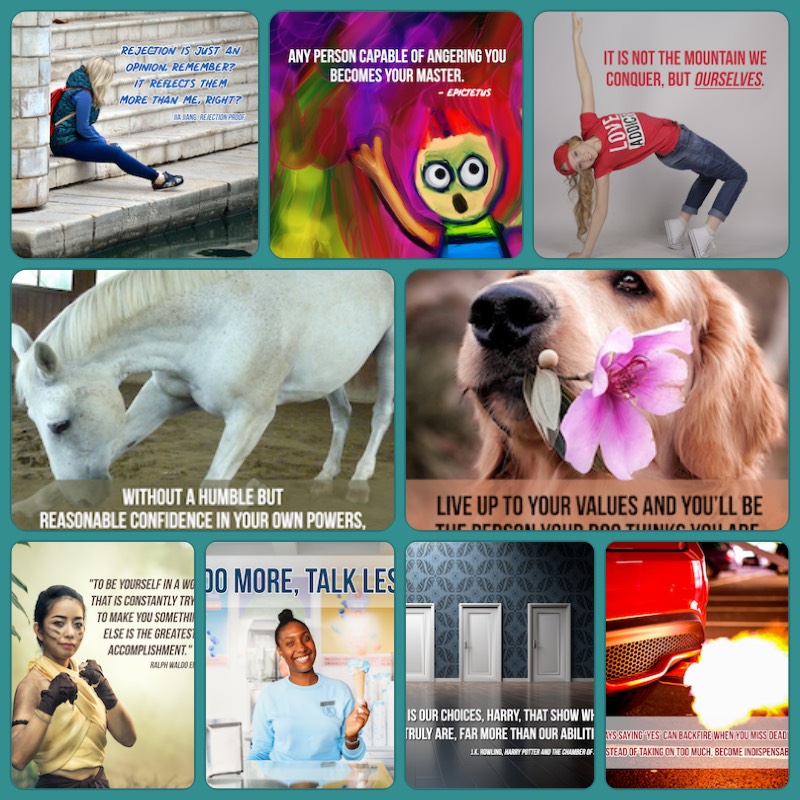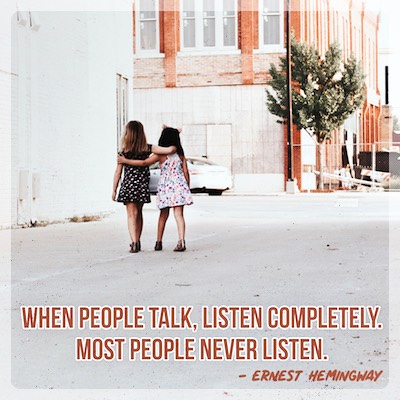 PLR HTML Product Funnel – Mobile/Responsive Design
Keep Mobile Traffic With Responsive Sales Pages
Responsive design for any size viewer. Includes download page.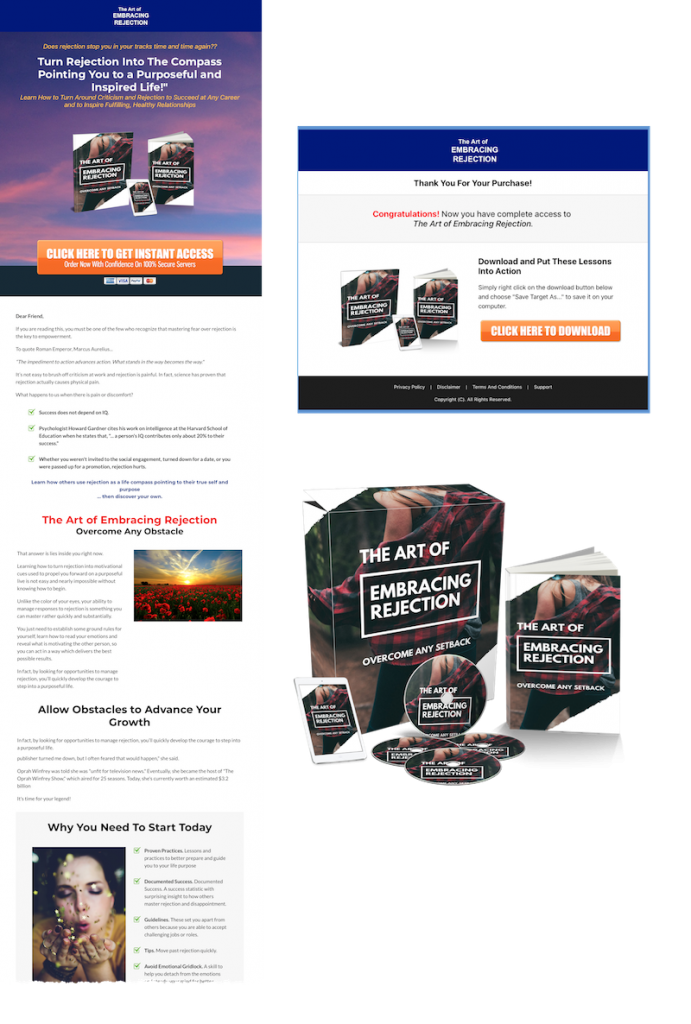 eBook PLR Banners
10 PLR Instagram and 10 Facebook banners matched to eCovers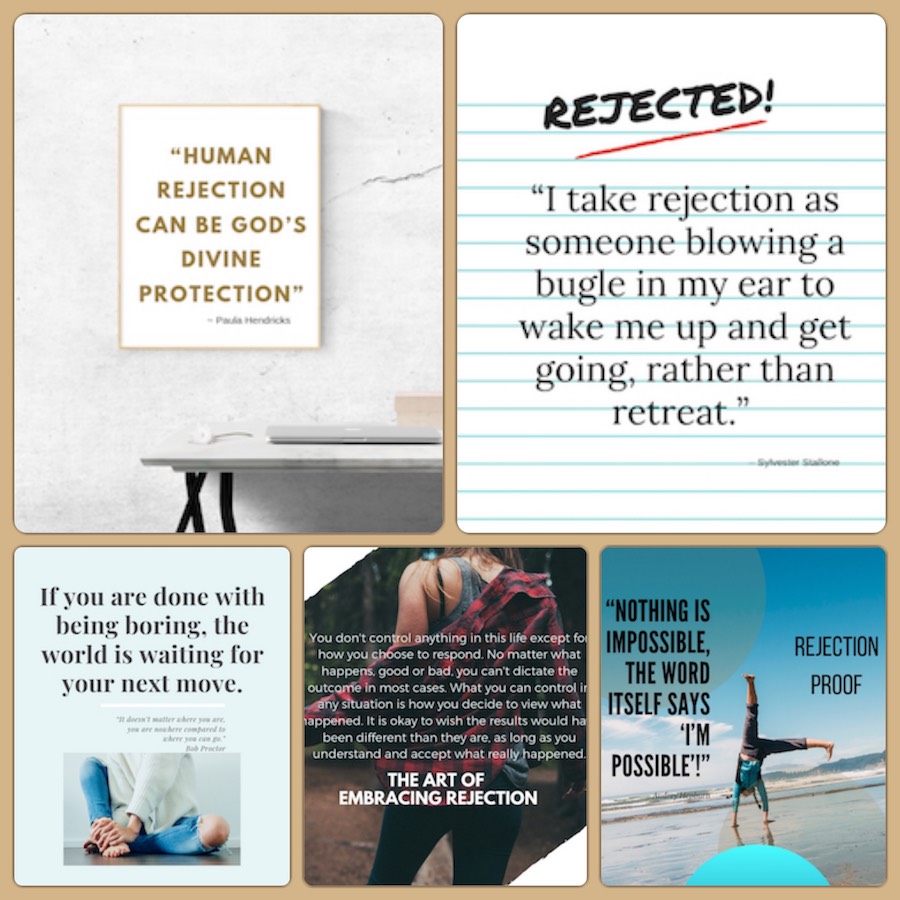 Inspire.Quotes and Tips are perfect for contemplation and tips keep your audience informed. Sized 1000px X 1000px
Recycle and Reuse.Try Different Media ChannelsYou should know where your clients like to congregate, but sometimes you'll find an entirely new segment on different media channels. Editable PSD is provided.
Social Teaser PLR Video
Videos to Presell Product Offers. The Secret to Getting the Click is to Capture Interest and Curiosity
HD Quality – 1 minute – This is a Preview Only – You Receive Full Video and Script
Embracing Rejection Self Growth PLR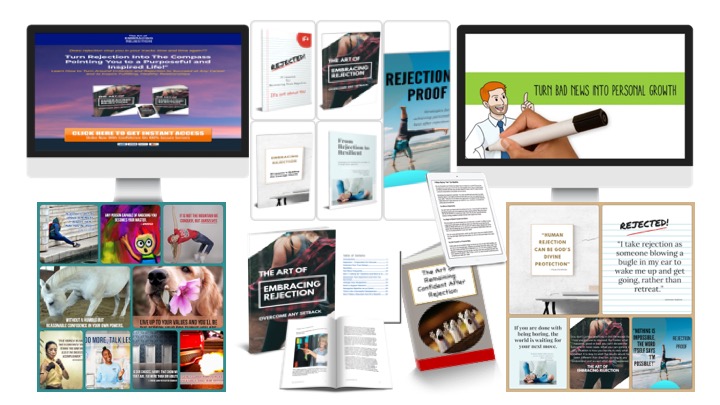 eBook – "The Art of Embracing Rejection" PLR, 3,600 words; 20 Pages
Articles -10articles over 400 words each
eCover Cafe – 5 eCovers with new titles – Be Unique!
8 eCover Styles – Choose a different style for a different type of product
Lead Magnet Report "Remaining Confident After Rejection"
Social Posters Galore – Match up to each article!
Full Responsive Sales Funnel with Download Page and Sales Copy Done-For-You
Image Library – Royalty/Copyright Free Images to Use In All Your Promos
Instagram &Facebook Ebook Banners Using eCover designs
New White Board Video – "Turn Bad News into Personal Growth"
The "Art of Embracing Rejection" provides the self-improvement coach or marketer with products to use in training, marketing and blogging. This Self Improvement Private Label Rights bundle includes everything you need to grow you practice, connect with partners and readers, as well as to attract people ready to buy. We've done the work so you don't have to do!
$57 $47
Note: All Self Improvement PLR products are delivered in the PLRPump member inventory after purchase. Members Login