I have the next PLR pack almost wrapped up and ready to go. I haven't decided what day to release yet, but I'm about to burst because this is really a great pack. Also, this is just a sneak peak. I'll let you in on more details as the release day approaches. Soon, very soon.
I've also included a pic of me all dolled up like one of the synchronized swimmers you may have seen on the Olympics. Now don't scroll down yet! First, read about the next Mega PLR Pack.
Even if you aren't in the health niche, you may want to consider jumping on this PLR pack because the topic is in the headlines, on talk shows and yesterday I received one of those large pamphlets selling a book on this topic. I took it as a sign that this release is right on time.
Yes, I'm being a little mysterious. A girl has to have a little mystery. I did set a big goal for this release. You may recall that my 2012 Olympic Fitness and Health PLR sale sold out. 100 copies WooHOO! [tooting horn]
I wrote down my next goal for number of sales and took a picture of it. Here it is: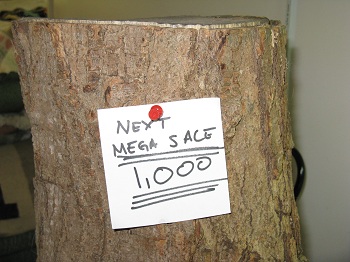 If you can't decipher my penmanship that says "Next Mega Sale 1,000." I'm feeling pretty upbeat about this! That is 10 times what I sold on the Mega Health and Fitness pack earlier this month.  I tried to create a pack that was loaded with different things you could use for opt-ins, gifts, and even door openers if you are into offline web consulting.
Here's a peek at the contents of this health PLR Pack.
27 page eBook with full color eCover

14 chapters, over 6,290 words

11 PLR Articles

Each article is over 400 words, one article was used to create the Infographic

20 Autoresponder messages (10 pages, 4,331 words)

20 days of email messages related to the topic. You won't have to struggle trying to think what to write to folks on your list for 20 days.

30 Recipes for Kids, Holidays and Athletes
60 Tweets
6 Lists one of which is a resource list including a great online resource for the Spanish speaking audience about "Something"
2 Full-Color Infographics with Editable Files
1 eCover editable file (2D)
7  eCover Alternatives (3D)
Editable Handout/Brochure Listing 50 xxx Offering xxx Options.  Source is in both Word and text documents, but you also get a professionally designed brochure and the Photoshop files to edit it and stamp it with your special touch.
That's 48 pages of pure content and you can use the lists, the Infographic, the ebook, or the brochure as opt-in gifts OR if you are in the offline side of the business selling marketing or websites I've got a great way for you to use the brochure. The marketing consultants I ghostwrite for are chomping at the bit to get this pack so they can put the brochure into action.
Ok, that's the sneak peek. NOW for the Synchronized Swimming Show. No music. Just raw beauty.
Yes, I'm standing in the tub.  The ice storm took out the pool a few years ago so I improvised.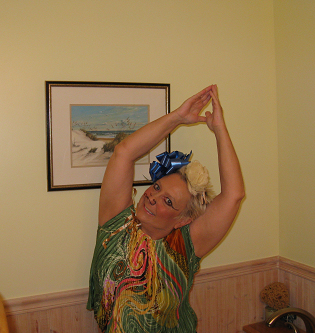 Stay tuned!
Kater
P.S. Did you smile??