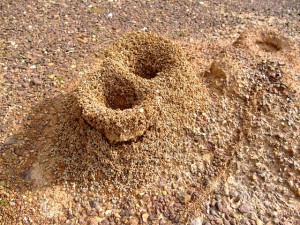 The Ant is a tiny creature, but one which moves a lot of sand – one grain at a time. He's in the "sand" niche.  He makes a great living in this niche providing massive homes for thousands of his brothers and sisters.  The ant has mastered niche marketing.
There's a lot of money to be made in taking small pieces of big markets. Markets such as weight loss, health, fitness, credit cards, and dating are massive.  Often people try to grab a big chunk of these markets and quickly discover the competition is fierce.  Then they run out of interest (or money) before seeing any return on their investment.
The first most critical skill you need is the ability to choose a small slice of a large market, create an authority site, stick with the niche until you start to see the money come in and then stick with it until the money pours in.
There are two training videos included in this post.
One on the basics of marketing.  This is really high level, but key to understanding the big picture.  In the second video you'll see how I pick a niche to invest in for a PLR product.  If I make a bad choice it means that I loose money on that product. Plus I've wasted time that could have gone for a more lucrative niche.
I also provide insight to the affiliate toolkit that is included on some of the more recent PLR releases like the "Your Core Fitness" product.  My hunch is you may not realize what a gold mine these research reports are.  Look in your zip files.  Depending on what release you have, I've put them in a bonus folder or in the Affiliate toolkit folder. You can also search for research reports on other topics here.
PLR to Income Series
Marketing 101
Niche Research and Selection
The next video illustrates how I pick a niche for a PLR product. This is key because if I mess up the choice I lose all the time put into the product as well as the moola choola.

Here's how this strategy works.
Go Where the Money Is
There's a very good reason why markets like weight loss, or health and fitness are so crowded. It's simple – there's a lot of money to be made.
Instead of finding small niche markets where the profit potential is unsure – like grooming pet rocks, these massive markets are proven to be winners and you can be certain that there's money to be made. The trick is carving a slice of the pie.
Picking Your Slice
The best way to take a small piece of a large pie is to pick a specialty. That specialty should be a gap in the market.
For example, the Your Core Fitness product is slice of the larger fitness market.
In Your Healthy Gut, Cultured and fermented foods are an interesting piece of the healthy eating "pie."
What I do is look for a gap in a large market where you can capture the attention of readers with special reports or articles. Then make sure there are merchants selling products so I know there is a real demand.
When you buy PLR from PLRPump.com, you can be certain that the chosen niche market offers plenty of potential for making money.  You just need to put your PLR to work!