This article is for people who write content (articles, ebooks, blog posts, etc) to sell and you use a Mac for creating documents. Mac formats files differently and this format may not be well received by your clients. There is a free platform you can use to create documents, spreadsheets, presentations and drawings. If you use a Mac to create documents to sell, like PLR documents, find out how you can use these free tools to format your text documents so your PLR buyers can easily read them.
Here is the background to this story.
A writer who is opening a PLR store asked for a review of her PLR. The articles were well written, but I had and issue with the format. Typically PLR packs are delivered in text format or *.doc format. The text format is easily read with Windows Notepad and the *.doc format can be read by Windows Word or Open Office Org Writer. Her PLR articles were delivered using both of these formats and I could open them in Word or Notepad. The problem was that the file in text format didn't have and end of sentence breaks. This made the file difficult to read and I found myself adding in the natural breaks so I could more easily read and review the contents.
Here is what the PLR text file looked like.  Notice there aren't any line breaks between file descriptions.

People want their documents formatted properly so I asked the writer why she did that. The response was she used a Mac and it seemed to format it this way. Now, I'm not familiar with Mac, but my hunch is there is a workaround on the Mac for this. The writer was pursuing purchasing a conversion tool, but I think there has to be a better way. If anyone has some advice on this, please comment on the post. However, I do have an alternative solution to the problem and it is free.
The solution: Make use of Google Docs!
You probably already have a Google mail, GMail, account and that's all you need to use Google Docs. When you log into your Gmail account you'll notice a menu bar across the top of the screen. It lists: +You (your Google Plus link), Search, Images, Maps, Play, YouTube, News, Gmail, Documents, Calendar and More.
Select "Documents". Once in the Google Docs area you can select different types of documents to create that "roughly" equate to Word type documents. There are options for presentations, spreadsheets, forms and documents. For this exercise select "Create…Document".
Now I can take the text from the file created using the Mac application and paste it into this new Google Document file. It is automatically reformatted to a more reader friendly format. Next, assign a meaningful name to the file by clicking in the area that says "Untitled document" then name it.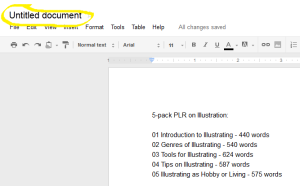 Now your file is ready and you can keep it on Google docs forever if you wish, but I would recommend downloading it to your Mac too. Create a collection of your PLR articles that are formatted for PC users. Save the new file as a text file and as a .doc file. This is the format you should provide to people who purchase your PLR articles.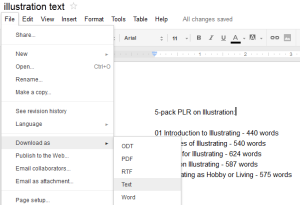 If you have other ways to solve this type of formatting problem please share the knowledge with a comment below. Good luck with your writing whether on a Mac or PC!
If you found this article helpful and would like to be updated about fresh PLR pack releases and free PLR, just complete the form with your best email address and confirm your subscription. Thanks!