(Members Access Downloads At Bottom of Page)
Enhance Your Healthy Eating & Diets Website With 'Plant vs Meat Protein PLR' 

PLUS

 

'Vegan Snacks PLR'

 and 10 More Media Modules with Bonuses 

To Uniquely Position Your Business From The Start!
Create an authority healthy diets blog or coaching portal with ebooks, articles and more, using instant PLR products.
Here's A Quick Look at the Main 12 Modules
Lead Magnet

Highly targeted eBook to attract the perfect audience

Squeeze Page

DFY Squeeze Page (HTML)

eBook

Special report on high curiosity topic. Another list magnet, bonus incentive or gift.
Premium Articles

Niche articles for blogs or syndication.

Bestseller Book Review

It's like Cliff Notes for entrepreneurs.

Mini Posts

200w mini-posts for social media or quicky blog posts
2 5-Page Newsletters

Articles formatted into Newsletters

Infographics

Editable Infographics – more viral content!

eCovers

Colorful ecovers professional design(PSD Included)
Coaching Slidedeck

DFY course. Use online or offline.

Autoresponders

Can't think of what to email? No problem. 21 DFY messages

Top 10 Academic Resources

Research done for you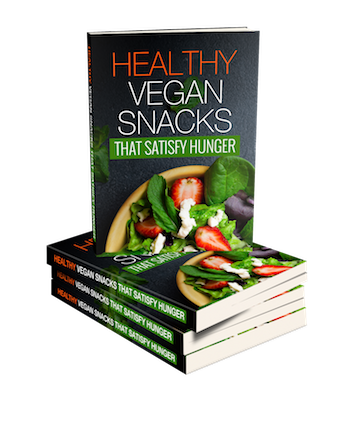 Healthy Vegan Snacks
This eBook is for those wanting to learn and enjoy the health benefits of a vegan or vegetarian die without all the hassle! Give them instant vegan snack recipes!
Brand and sell the eBook, use it as a lead generation tool, break it up into short articles, unlimited uses. Share with confidence.   The eBook was written by a subject matter expert, published author and health coach.
Over 3,000 words (30 pages) guide.

Editable DOC file included so you can freely edit the eBook as you wish.

Beautiful illustrations

PDF version included.
Take a Peek...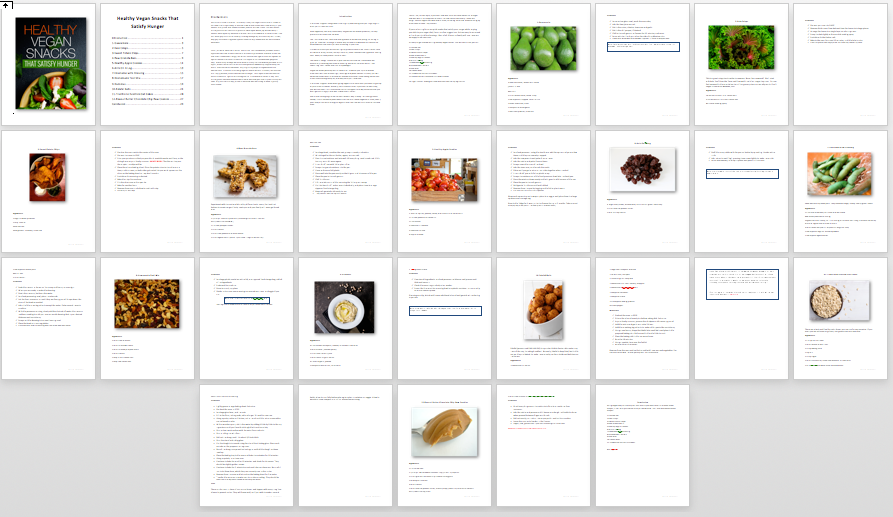 Includes Over 3,000 Words, 30 Pages!
MODULE #2 - OPT-IN SQUEEZE PAGE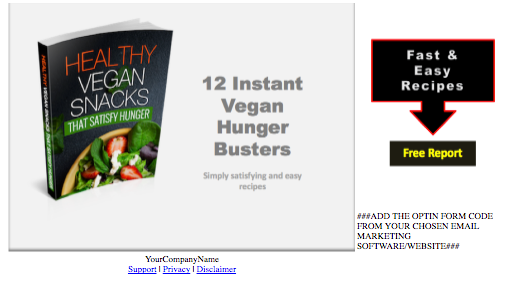 Boost Leads 
Just swap in your own branded PDF and Opt-in code. You are set!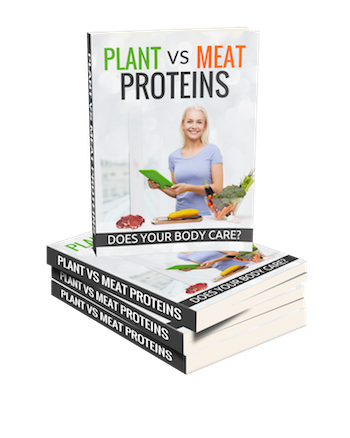 Plant versus Meat Proteins 
This is a BIG question. There you are with answers!
Over 55 pages, 6,800 pages, illustrated
Just Add Your Call-to-Action to Buy
Just Add Your Call-to-Action to Buy
MODULE #4 - PREMIUM ARTICLES
12 articles to publish to the web or repurpose any way you wish.  Approx. 400 words each.
MODULE #5- BESTSELLER BOOK REVIEW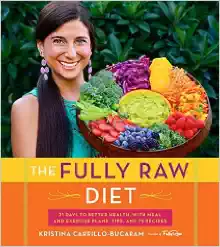 R
emember Cliff Notes from high school? No?  
Cliff Notes provided a condensed version of a book which you could quickly read and then prepare a book report.
Let subscribers in on what you are reading with this Done-For-You book review.

Post to your blog and monetize with your Amazon link if you wish.
You Don't Even Have To Read The Book!
(We won't tell!)
MODULE #7- MINI-REPORTS (NEWSLETTERS)
10 articles are repurposed into two 5-page (or more) newsletters.
Monetize with your affiliate or product links, save as a PDF and distribute.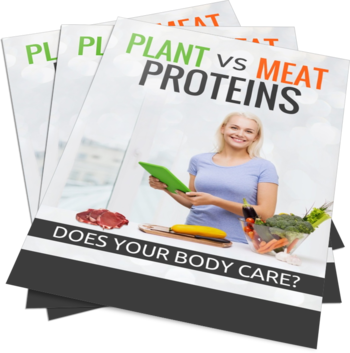 You are an epic marketer!
MODULE #8 - GRAPHICS ECOVERS
6 Styles 4 Different Sizes for Each Ebook
MODULE #9 - MINI BLOG POSTS
20 Mini-Blog Posts (200w)
Can'g think of anything to write about?  It happens to us all. Use these to kickstart a full-blown, epic post or just upload for a quicky. Perfect for social media updates too.
1 - The "Raw Foods" Diet Basics
2 - The Hidden Benefits of a Raw Food Diet
3 – How to Start a Raw Foods Diet … The Right Way
4 – Are Fresh Juices Allowed on a Raw Foods Diet?
5 – Raw Food Diet Kitchen Essentials
6 – The Basics of a Vegetarian Diet
7 – The 6 Main Types of Vegetarians
8 – Facts About Vegetarianism You Probably Didn't Know
9 – Vegetarian Health Statistics – By The Numbers
10 – Go Vegetarian For a Better Sex Life
11 - What Do Vegans Eat?
12 - Where Does a Vegan Get Protein?
13 - How A Vegan Diet Stops Stress Cold
14 - Nutrition Basics For the Beginner Vegan
15 - Some Impressive Athletes That You Didn't Know Were Vegan
16 - 5 Great Plant-Based Diets
17 - Plant-Based Dieting Basics for Beginners
18 - What Is Meatless Monday?
19 - United Nations Study Reveals Eating Less Meat Is Better For the Planet
20 - Plant-Based Eating Means Thinking Like Your Grandmother
MODULE #10 - RELEVANT AUTORESPONDERS
21 Done-for-You Autoresponders
We got you covered in the communication department.  21 Autoresponders that are way more than just "go buy this product."  These are designed to start the conversation with your audience, keep them engaged and eager to hear more from you.  The first 7 are follow-ups to the opt-in report. Just add your Call-To-Action to your own sales page or an affiliate program.  Check out the clever subject lines below.
1.) Subject: Welcome to the Veggie Diets Newsletter
2.) Subject: Clarifying the veggies
3.) Subject: The protein challenge of going vegan
4.) Subject: Converting the family to vegetarian menus
5.) Subject: Sourcing organic plant-based foods
6.) Subject: Plant-based foods loaded with unwanted chemicals
7.) Subject: Tips for eating organic vegetarian on a budget
8.) Subject: Buy organic produce on a budget
9.) Subject: Amazon best seller resource and my review
10.) Subject: True or False: Going vegan lowers cholesterol
11.) Subject: Are you sure that's vegan?
12.) Subject: The Vegan athlete (really)
13.) Subject: Vegans vs Vegetarian
14.) Subject: Best protein sources for plant-based foodies
15.) Subject: Foods that boost metabolism
16.) Subject: Keeping on the plant trail to healthy living
17.) Subject: More fiber invites Pepe le Peeuuu
18.) Subject: Share your frustrations and stories
19.) Subject: The raw food dilemma
20.) Subject: Joke!
21.) Subject: Organic does not mean Vegan
MODULE #11 - TOP TEN ACADEMIC RESOURCES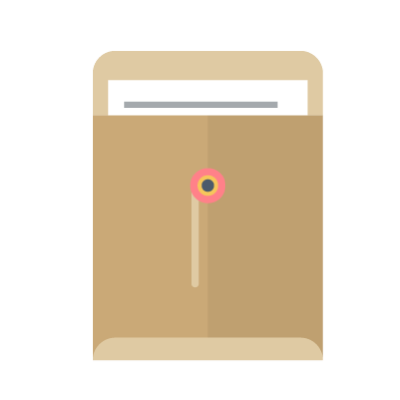 Top 10 Academic resources (PDFs, blogs, presentations, etc.) at your fingertips
MODULE #12 - COACHING PRESENTATION
Instant Webinar and Coaching Presentation
Slidedeck is ready to turn into a video or use as a presentation during a webinar.  That's too scary? Start off with a teleseminar. Step through the presentation and allow the audience to ask questions. Questions equal potential products or other coaching sessions. I knew you were a clever entrepreneur!
Powerful Content = Powerful Presence
If you have a team of researchers, writers and designers you can expect to invest over 150 hours and hundreds of dollars in producing this product.
Plan on a big budget.
Plus, packaging it all together to make it presentable.
And it's no exaggeration. If you've ever created a product yourself, then you know just how much work's involved to produce a high-quality product.  Then there is more time pulling it all together into a marketable product.
Plan on lots of grey hair. I'm proof! (just kidding, sort of)
Our PLR production budget runs close to $2,500. You can expect to pay that or more to create a one-off product.
We actually over-extended the budget for this product. I under-estimated on some of the costs! Here's the rundown.
That's A Total of 100 Hours Of Work And $2,200 plus in Expenses!
But you can put this product to work for far less than that!
Your License to Use This PLR
Full PLR Rights, Personal Use Only for Editable Content
Now It's Your Turn!
You will get instant access to: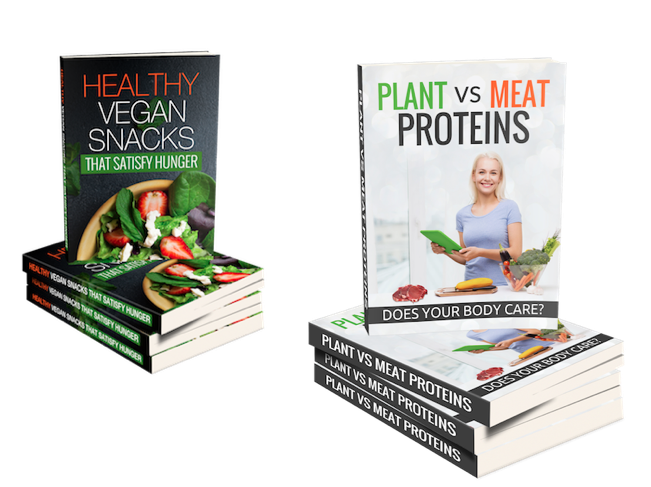 MODULE #1: Lead Magnet: Healthy Vegan Snacks 3,000words, 30pgs, illustrated ($750)
MODULE #2: Opt-In-Squeeze Page ($50)
MODULE #3: eBook: Plant versus Veggie Proteins, 3,800words, 55 pages illustrated
MODULE #4: 12 Premium Articles ($350)
MODULE #5: 3-Page Bestseller Book Review ($75)
MODULE #6: Infographic 4-Easy Reference Posters ($250)
MODULE #7: Two 5 Page Mini-Reports/Newsletters ($50)
MODULE #8: eCovers-2sets ($100)
MODULE #9: 20 Mini Posts; 4,000+ Words ($400)
MODULE 10 - 21 Autoresponders
MODULE 11 - Cited Academic Resources
MODULE #12: Training Presentation - Webinar Ready ($225)
That's Over $2,200!!
Today You Won't Pay Anywhere Near That Price...
——-Members Download. See Below——-