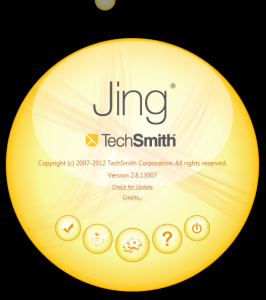 This is an introduction and tutorial on a free video recording tool, Jing.
I used Jing exclusively before making the monetary commitment to Camtasia. Jing is a free video recording tool that also comes with free storage and sharing.
Adding video to your communications enhances the connection with the viewer. This tool was ideal for quick videos because it is easy to learn, uploads the video automatically to a free storage point and provides uncomplicated simple video communication.
Here are few ways I use Jing:
Quick demonstration of something I find complicated to put into words
Quick video showing how something isn't working as promised to help the support team understand the problem better
Show instead of call or write – it's just faster
Download the video for posterity or to upload to YouTube
Limitations
Only for desktop videos.  You can't record your beautiful face, your darling cat, or precious pooch.
Limited to 5 minutes.  You get free storage, but each video is limited to 5 minutes so as to control the size of the file.
No zooming, clipping, audio tweaking, or any of the features offered by a more robust recording tool like Camtasia.
Here's the video. Hope it helps!