This article offers a smart tip for you to use on all your WordPress websites.  Watch my silent movie or ready the gory details below.
[slideshare id=14343349&doc=plrpumpsmarttips-brokenlinkcheckerplugin-120919061539-phpapp02]
Along with buying great content from PLR Pump, periodically log into your websites and check for broken links.
That shouldn't be much of a chore if you only have a few links on a few pages (right?), but what do you do when you have hundreds or thousands of pages?  Now that is a problem.  Wouldn't it be nice to have a program help you out with this chore?
"Ask and you shall receive" Good Kater said unto her readers!  Too omnipotent for you?  I was having a bit of a "Good Complex."
All you need is this nifty plugin called Broken Link Checker. Yes, it is free.
Links, or HTML links, are the pathways to customer satisfaction and delight.
Links are used in websites to help readers navigate to other pages for:
More content
Opt-ins
Downloads
Shopping carts
Payment
Contact
Legal pages (Privacy, Terms of Service, etc)
…and more
If the link is bad – broken – no worky – then your reader can't get to the page they were looking for.  Can you guess what happens next?
This causes several emotions in the reader, none of which are desirable: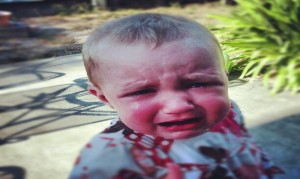 Disappointment
Lost Trust
Lost Sales
Now emotions are what cause people to buy, but if the link they click on to buy is broken, they become emotional for the wrong reason.  So you can just paint your face into the photo.
This problem is easy to solve with a WordPress plugin.
Easy Peasy Broken Link Fixer Plugin
I discovered this tool when I moved a website I originally set up on another platform that I was very unhappy with.  Unfortunately, every page and link was broken after the move.  I almost dropped the effort, but found this plugin,  Broken Link Checker by Janis Elsts.
To install this broken link checker tool you log into your WordPress site, then go to Plugins, Add New…Search for "Broken Link Checker" and select the one by By Janis Elsts.
Click Upload and Activate. Now the plugin is installed and ready to check links.
To access the settings go to Settings … Link Checker and this opens up the settings page.  You can modify frequency, what type of pages to check links, what type of links and tweak the API settings. Unless you have a real need to change these settings, just leave the default.
The tool runs pretty quickly and you should be able to check if it discovers any booboos in a minute or two.  Longer if you have uberthousands of pages. To check for broken links go to Tools…Broken Links… Here is a picture of what the tool shows when there is a broken link.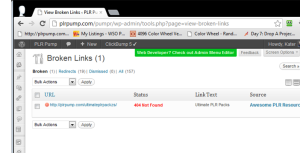 In order to fix the broken link you just click in the little window to update to the correct path and click update. If you entered the path correctly the program will remove the entry from the page.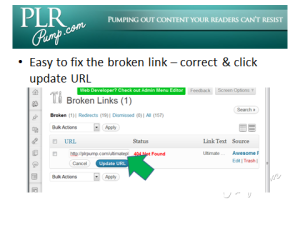 You did it! Fixed broken links so you don't mislead or disappoint your website visitors.
You ARE awesome!
Smart tip! Check your websites for broken links periodically.
Ok, that's a wrap.  If you enjoyed this Smart Tip, check out this post about a plugin you can use for cloaking affiliate links.  It's also a free tool.
Don't forget to install Broken Link Checker and check for broken links on your website. Leave a comment if you found this post helpful (or not – boohoo.) Thanks!