Gifting essential oils is big business during the holidays and birthdays. Now you can capture traffic looking for ideas on holiday gifts with essential oils. Not only is this great for search, but an new way to bring in local customers for your essential oil business.
Get ahead of the curve using pre-written Private Label Essential Oils for Digestive Health PLR content. Professionally written reports and articles allow you to build your business without being tied to the keyboard.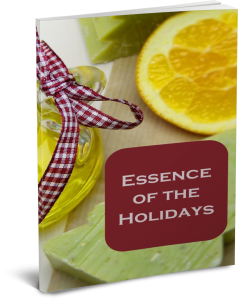 You'll find a report on how essential oils make ideal gifts, but also how to use them when travelling. Just another superb way to share how versatile and effective essential oils are for a natural lifestyle. Essential Oils Essense of the Holidays report, eCover graphics, and social posters are all included.
Special Report: Essential Oils Essense of the Holidays Private Label Products
Table of Contents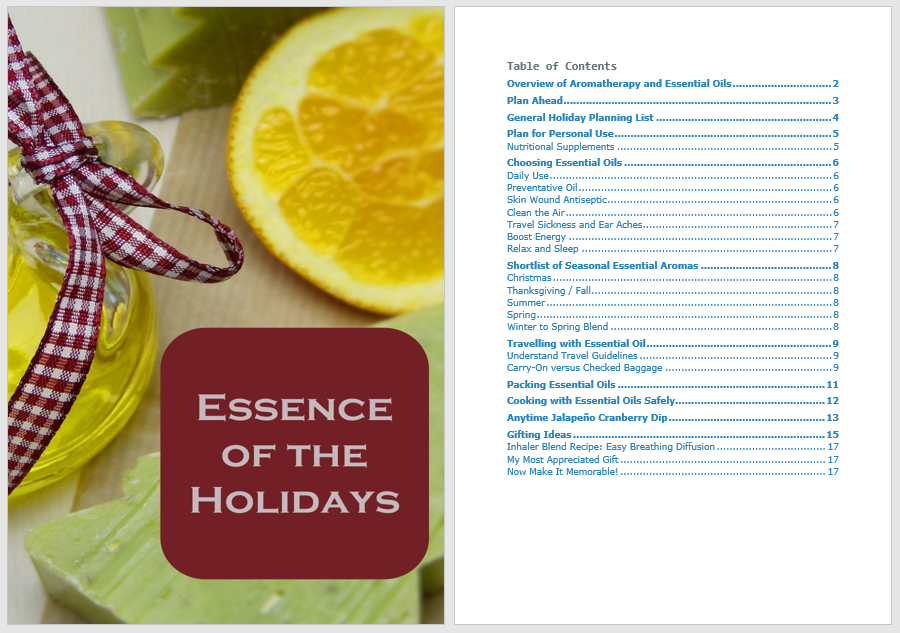 Sample Chapter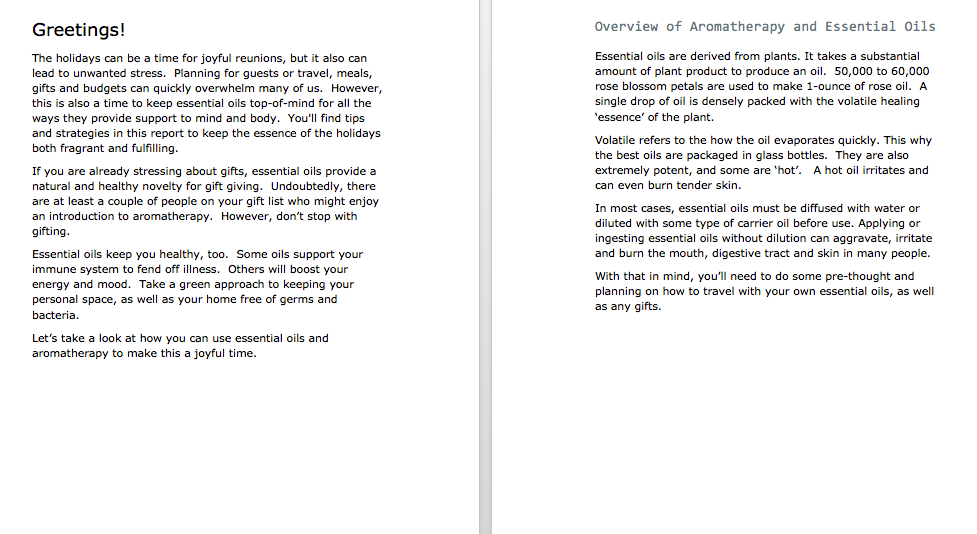 Researched and Written by Professional Writers
Eight Premium Articles (500 words plus)
Avoid Motion Sickness Using Essential Oils 559 words
Benefits of Cinnamon Essential Oil – Beyond Cinnamon Buns 533 Words
Choosing Essential Oil Diffusers 593 words
Essential Oil Recipe for Kidney Stones 594 words
Essential Oils Addressing Root Causes Not Symptoms 520 words
Favorite Mood Essential Oils 546 words
Great Beginner Essential Oil Kits 525 words
Overlooked Benefits of Ginger Essential Oil – 614 words
Ten Social Media or Blog Feature Images
Designed to match articles so you can use for social media and your blog. Editable 1000 x 1000 px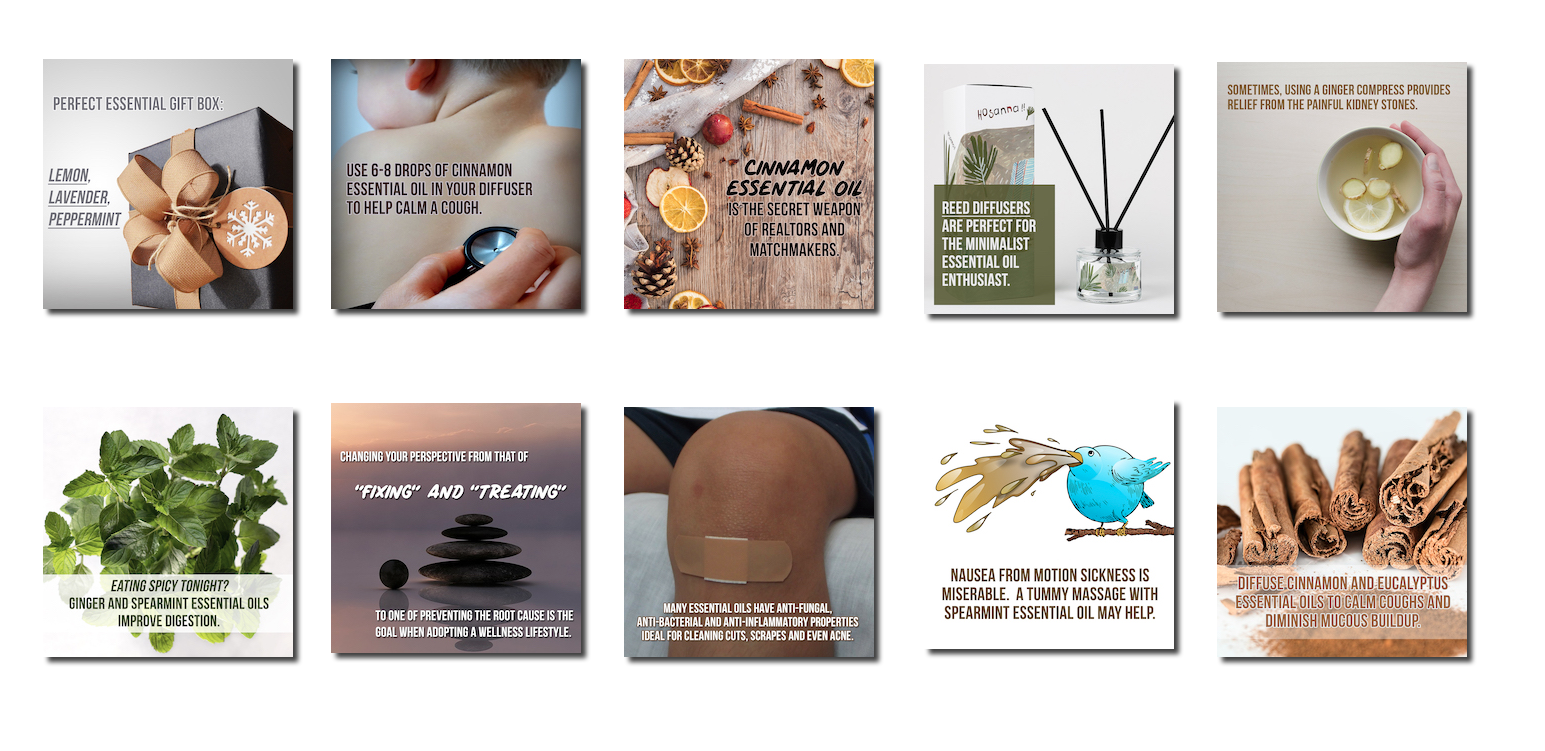 10 Facebook Updates & 10 Tweets
Done-for-You Updates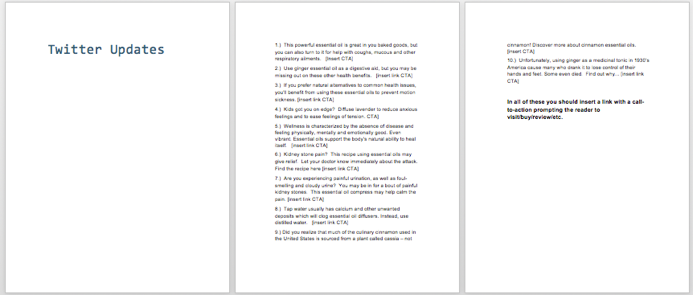 Summary – Essential Oils Essense of the Holidays PLR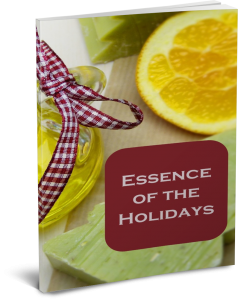 PART 1 – Report – Essential Oils Essense of the Holidays 2,500 words. 12+ pages
PART 2 – 8 PLR Articles for the blog or social media, 500 – 600 words or more
PART 3 – 10 Social media message images for updates of blog posts
PART 4 – 10 text Social Media updates suitable for Twitter
PART 5 – 10 text Social Media updates suitable for FB
PART 6 – Images Royalty free / copyright free / use in blogs or other content
The Essential Oils for Holiday Gifts and Travel PLR bundle includes everything you need for online success.
$47 $35
Note: Essential Oils for Gifts, Holidays and Travel PLR products are delivered in the PLRPump member inventory after purchase. Members Login