(Members Access Downloads At Bottom of Page)
Massive Profit Potential! Equestrian Fitness PLR Business Builder!
Equestrian Fitness - Horseback Riding


Hello PLR Friends,
Kater here from PLRPump.com introducing an all new product for fitness entrepreneurs and affiliate marketers looking for ways to stand out and attract and entirely new client base.  This product, "Equestrian Fitness" is designed to appeal to equestrian athletes and leisure riders.   These people are looking for guidance on fitness, nutrition and equipment to purchase.
The audience looking for guidance on fitness for horse riders cover a possibility of three or more generations, ranging from six years to sixty-six years of age.  Horse care and management is an ideal way for children to learn responsibility, patience and keep fit, too.  However,  more adults who are near or in retirement are picking up the reins for fun and exercise.
There are the weekend riders who enjoy being outdoors and caring for their horses.  Then there are the competitive horse owners who participate in any number of events such as:  dressage, polo, event riding, reining, racing, show jumping, driving, rodeo and even endurance riding.
According to the United States Equestrian Federation, the median income for horse-owning households is $60,000 per year; a criteria describing an ideal target market for many fitness entrepreneurs. 
4.6 million Americans are involved in the industry as horse owners, service providers, employees and volunteers. Tens of millions more participate as spectators.
The horse industry has a direct economic effect on the U.S. of $39 billion annually.  There's plenty of money waiting for you.  You just need to catch the attention of these buyers.
Not all equestrians participate in competitive events.  However, both competitive and leisure riders share these common desires when it comes to riding …
They want to feel confident in the saddle

They want to enjoy a 'oneness' with their horse

They want to look great whether in a full gallop, trotting or walking their horse
And that's where you come in to the picture offering them guidance and solutions with "Equestrian Fitness: Achieving Oneness With Your Horse."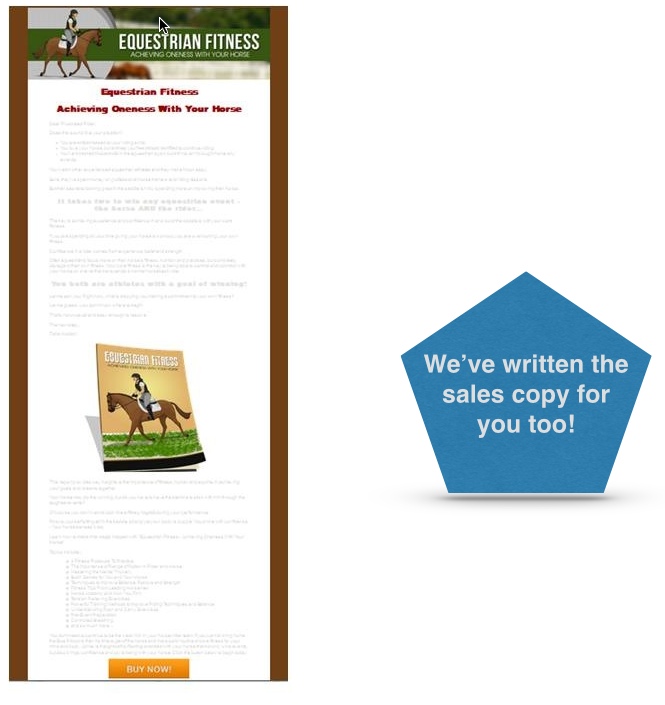 Let's review what you get with Equestrian Fitness...
——-Members Download. See Below——-
Sorry, this content is for members only.
Click here to get access to this product.
Already a member? Login here…