Can Casual Bloggers Profit from the Holidays?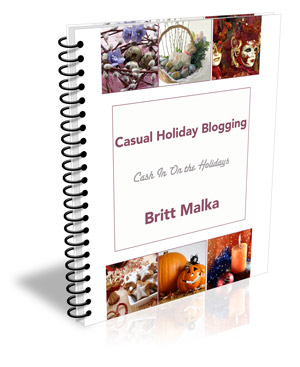 Have you completed your blogging calendar for November and December yet?
Keeping up with ideas to blog about can be challenging.  But all is not lost for the infrequent blogger. Today, I'd like to introduce a new internet marketing colleague, Britt Malka, who also happens to live in Israel so she doesn't necessarily benefit from all the markets we do in the USA.   However, Britt's made a comfortable living online since 1997.
Britt and I are on an Amazon Skype mastermind group together. So when I learned she was updating her how-to Amazon product "Casual Holiday Blogging" to bring it current I asked her if I could review it. So, I'm happy to deliver that to you today.
Is "Casual Holiday Blogging" for You?
First, if you are already making heavy profits in holiday blogging, this product may be too basic for you. This is more for people who want to get started blogging and want to start with holiday blogs.  Britt offers some new insights for "casual bloggers" which aren't the usual stuff you read in "how to blog" reports.  If you want to learn about making money blogging during holidays and annual celebrations, then read the rest of this review to find out more.
Let's Get to It! My "Casual Holiday Blogging" Review
Blogging is hard work. Ah, maybe not hard, but it is work, and you have to do it regularly. Some professional bloggers post at least one new article daily and some even more frequently. Britt's "Casual Holiday Blogging" teaches you how to "Cash-In" on the holidays even when you aren't a consistent blogger throughout the year.
How does Britt make money as a casual blogger?
Well, I'm not going to give away her secrets, but there are several reasons her methods work.
Online shopping and searches during the holidays is far more intense. This means there is more opportunity for casual bloggers to profit during this time. So you build your blog around a single holiday and focus on publishing posts to it a few weeks prior, during and even after to the event.  It is the perfect method for beginners to get started successfully monetizing a blog.
Britt teaches some of the basics like choosing a holiday topic (with a unique twist), monetization, integrating social media, building a list and then she adds some special sauce to speed up the whole process. Using her tactics helps boost visibility of your blog and drive traffic to it too.
What you get with Casual Holiday Blogging
Along with the proven experience of a successful casual blogger you get a comprehensive report (60 pages when I reviewed it).  She's also provided activities and homework to get you earning money as a casual holiday blogger from the beginning.
Upsells
18 WordPress tutorials if you need help setting up WordPress,
8 videos where you can watch Britt step through the process
3 webinar recordings with demonstrations and Q & A
If you are totally new to setting up a WordPress blog, Casual Blogger will help you overcome that hurdle. Britt's provided access to a series of WP setup tutorials as part of the product.
What I Love About Casual Holiday Blogging
Since Britt is originally from Denmark and now lives in Israel, she provides a refreshing perspective on topic selection and keyword research. There are some real tidbits you can leverage in the "Choose Your Topic" chapter.
Also, for those of you who can't promote Amazon as an affiliate because of the country or state you live in, Britt has an alternative for you without those restrictions. Be sure to look into these Amazon alternatives in the "Monetization" chapter. She also implements Adsense on her sites and provides steps for that in the "Post Content" chapter. You don't have to do this, but she does well with this monetization in holiday blogs.
I briefly scanned the "Set Up Your Blog" chapter as that is pretty standard. Britt provides access to the WordPress tutorials too.
Do NOT overlook the critical information regarding "Important Pages" and the "Amazon Affiliate" disclaimer. Failure to implement these pages can cost you your affiliate status.
Chapter 5 is full of tips and strategies for building up momentum for your blog. This is what makes you a successful "Casual Blogger" with commissions coming in and not just another holiday blogger.
Another big win strategy Britt uses that is often overlooked in Amazon affiliate marketing is building a list. I think that is because Amazon doesn't allow sending people links to Amazon products WITHIN emails. However, they have no issue with affiliates sending people TO blog posts and reviews about Amazon products.
Plus, there may be other opportunities for monetization so you need to keep in touch with your subscribers and getting them on your list makes that possible. Before you know it, the season will be upon you again! Britt reviews the high points of this process, but you may need a more thorough tutorial if you haven't done this before.
What I Think Needs Changing Or Improvement
In the "Blog Set Up" chapter, there are some plug-ins referenced which I would not use anymore as the newer version of WordPress and Jetpack provide these functions. These are the social media widget, contact form, and Statpress.
I think the titles of the WordPress video tutorials should be clearer. I suggested she make those more descriptive by adding a Table of Contents. People may not need to watch all the videos and only need help with some of the process. A more descriptive table of contents makes identifying video topics simpler. This could be a download document added to the product.
Britt's examples show smart use of images in her posts, but she doesn't dwell on that much. Or maybe I overlooked that part. Anyhow, DO use images in your casual holiday blog.
Wrap it Up!
This product is a great introduction to holiday affiliate marketing. I learned several new points especially the alternative Amazon marketing portals. I also enjoy being on Britt's email list and I'm picking up some tips from here there, too. Get ready to make sales as a casual holiday blogger using the tips and steps revealed in "Casual Holiday Blogging" by Britt Malka.