(Members Access Downloads At Bottom of Page)
Fun Amazon Product PLR for The Backyard Enthusiast!
Looky, Looky ... Backyard Fun For You!
Ready to Dominate The Summer Fun Market With "Backyard Fun"
This package is a perfect match for the "Summer Fun" PLR product -
Great appeal

for the Work At Home Parent, Day Care and  Homeshool Crowd.

You saw the keyword search statistics, but here is a refresher.  There are three niches ripe for this content.  You can hit them all with the "Backyard Fun" PLR pack.

Here is the latest snapshot of some keywords in this space:

Once again, you show up on your white-digital horse with more ideas to help struggling adults to magically get the kids to stop their  whining as well as to get the kids engaged and outside - yes! Outside!  
You can stamp your name all over the PLR report and articles calling it your own creation.  Be sure to find some spots where you can add your own "special touch" with tips and stories that add even more value  to the product.
That's the stuff that helps build up the trust and relationships with your audience.  
In fact, you'll find a 20-slide Powerpoint presentation in two different styles converted to JPG images you can use immediately as images in blog posts or Slideshare shows.  That's 40 images.
This pack also includes 15 articles: 5 backyard fun, 5 backyard green living, 5 backyard Amazon product reviews
I've topped this product off with another special report which will catch the eye of parents who may be homeschoolers or considering homeschooling their kids.  You have full rights to resell this package AND the license allows you to turn it into a physical book for offline distribution.
Looky, Looky What You Get!
PLR Backyard Fun Report, 4,000+ words; 10+ pages with editable 3d eCovers.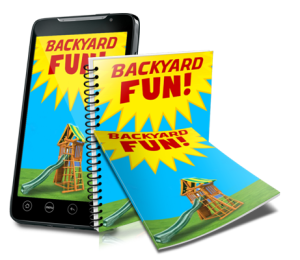 20x2 Powerpoint Slides and images ready for Pinterest, Tumblr,...
15 PLR Articles including Amazon product reviews (This is the first release)
Creating a Green Outdoor Playhouse (421)
Fun Activities that Help Kids to Become Eco-Aware (471)
Green Backyard Play Sets Make Green Living Fun (398)
HomCom Backyard Outdoor Wood Chicken Coop/Hen House (428)
Make Fun Backyard Games with Recycled Materials (425)
Recycled Glass Bottle Wind Chime (410)
Sterling- Rain Wizard 50, 50-Gallon Rain Barrel (415)
The Urban Garden -Vert Planter (426)
TRIXIE Pet Products Chicken Coop with a View (406)
Worm Factory 3-Tray Worm Composter (417)

Backyard Fun for Toddlers (473)

Boats and Water Activities for Kids (468)

Creating a Safe Backyard Space for Your Kids (479)

F

amily Backyard Fun (471)

Getting Your Kids Up and Off the Computer (447)
Phew, that's another loaded (okay not a great choice of words - try  jammed packed) bundle! Okay, I'm not going to pester you with umpteen different pop-ups, but now is the time to take advantage of this deal.
Have a great summer!
Kater
P.S  Don't hesitate, the Backyard Fun pack includes:
1-4,000+word BackYard Fun report
Powerpoint presentation plus 20 x 2 images in 2 styles for a total of 40 images
5 400+ articles for backyard fun 
5 backyard green living articles 
5 backyard green Amazon product reviews

——-Members Download. See Below——-
Sorry, this content is for members only.
Click here to get access to this product.
Already a member? Login here…