It's best practice to use affiliate link cloaking when marketing affiliate products.  Here's why.  Watch the short video version (no audio so no need to crank up your speakers).  Complete text version with images can be found below the video.

When you sign up as an affiliate for a product you are provided with a personal affiliate link.  For example, an affiliate link for PLR offered through PLRPump.com looks like this:
https://plrpump.com/jampot/jrox.php?uid=jack01
That is want some people refer to as a "naked" affiliate link.
There are a couple of problems with using a naked affiliate link.
1.  It's easy to bypass
2. You loose branding
Now I realize you are probably far more concerned with #1 because that costs you commissions.  I'm concerned with that, too.  So let's address that first.
****
1.  Naked affiliate links are easy to bypass –  How to fix the "easy to bypass" problem.
Often people new to marketing don't realize it is easy for readers to sidestep  affiliate links when they can see the exact URL with your link in it.
That's why the best practice for sharing links is via a cloaking mechanism. This process used to be a lot more complicated. I used a script to perform the cloaking, but now I just use a WordPress plugin. That said, this process that I'm about to share won't work unless you use WordPress.  Sorry HTMLers.
In this example I will use an affiliate account set up to promote PLR from PLRPump.com. [Note: If you are interested in promoting my PLR you can do that easily enough by signing up for my affilate program here: https://plrpump.com/affiliates/ . ]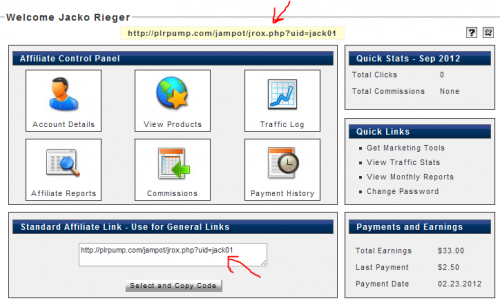 For purposes of this demo, I'm using an affiliate link set up for Jack. Here is what Jack's PLR Pump affiliate link looks like:
https://plrpump.com/jampot/jrox.php?uid=jack01
I copy that link to a text file in order to save it for creating a cloaked affiliate link.
Next, I use a plugin for cloaking affiliate links which I learned about on a forum for affiliate marketers. Several people chimed in their support for the plugin so I decided I would try it out. I enjoy this site because it has training, PLR articles, niche sites and even music, but the forum is a great way to connect with people who can offer quick tips or help.
To install this affiliate cloaking tool you log into your WordPress site, then go to Plugins, Add New… and you'll see an option like below to search for plugins. Just search for "Affiliate Links Manager" and select the one by Winkpress. Then click Upload and Activate. Now the plugin is installed and ready for you to set up a new cloaked link.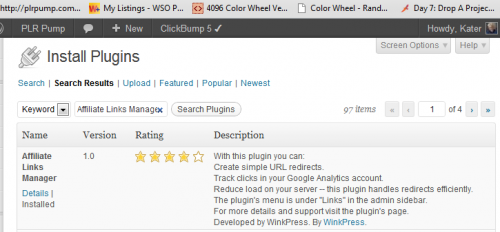 To access the settings go to Links, Affiliate Links and that opens up the settings options. In the image below you can see how I filled out the fields.
Link Name – just something easy for me to recognize as a memory jogger what this cloaked link is
Original Link – the real affiliate link. This is where I copied Jack's affiliate link
Short Link – this is how you will refer to the link in you hypertext. In this example: https://plrpump.com/go/plrdeals/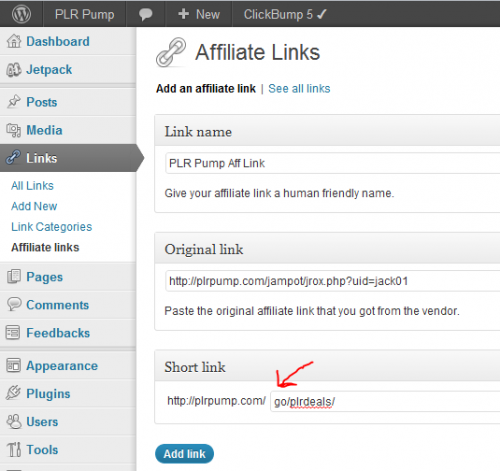 The plugin states that it requires a second level directory and I used /go/.
Then you type in whatever phrase you want to use for this specific link. I used /plrdeals/.
Make sure you end with a / or the tool will not accept the link and you'll click away in frustration wondering what is wrong.
Just end it with a / .
Smart Tip: I like to use words in a phrase that arouse curiosity (and greed) such as "deals", "limited", "exclusive".
The last step is to click the Add Link button to save the cloaked link.
Now you can check all your links by clicking the "Check Links List".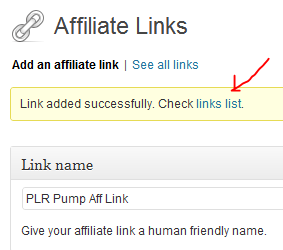 To use your new cloaked link you just create an email message, post or widget and embed or insert that link.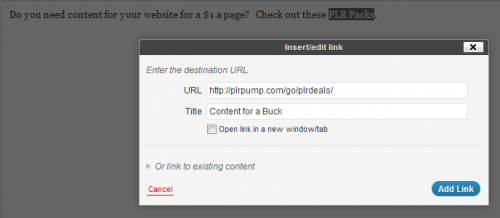 ****
#2. You loose branding – Maintain your brand by using a cloaked affiliate link.
I also want to "brand" as much as possible around my website or product.  Why?  Because that may be the only way people remember my PLR site amongst the abundanza of other PLR sites.
Let me show you what I mean using a different example.
Let's say I want to promote a product off of Tiffany Dow's PLR site, PLR Mini Mart.  My link is:
http://www.plrminimart.com/affiliates/jrox.php?id=1243
I can use that link and people will always associate PLR Mini Mart with that experience.  Consider what happens when I cloak that link to look like this:
https://plrpump.com/go/amazonfitnessdeals/
Notice there is no reference to PLR Mini Mart.  It only refers to PLR Pump.  Now when a reader clicks that link they often don't realize that the product is not related to PLR Pump.  When they want to take a peak at that deal again, they return to the source of the link, perhaps an email from me or a blog post.
When you click that link, you are directed to a Warrior Forum url.  You could copy down the path for future reference, but really, how many people will do that when all they have to do is return to the source?
See how that is just one more way to "brand" everything you do.
Use affiliate link cloaking to maintain your brand and to be memorable.
Click Kater's Cloaked Affiliate Link Below & You Win!